The perfect storm: How drugs, mental illness and aging inmates impact correctional healthcare
Dr. Marc Stern, a consultant in correctional healthcare, details the healthcare-related challenges facing correctional facilities
---

By Sarah Calams, C1 Contributor
Editor's note: When it comes to inmate healthcare, correctional facilities are facing a perfect storm. A growth in geriatric inmates poses significant challenges in regard to management of chronic diseases and environmental modifications; drug-addicted inmates are flooding correctional facilities; and in many jurisdictions, jails and prisons are now the largest providers of mental healthcare services. This special coverage series reviews key ways facilities can prepare to battle the storm.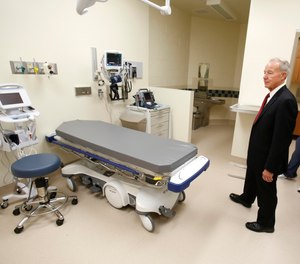 The current state of healthcare in the United States is often ridiculed and criticized relentlessly.
According to a 2017 Gallup poll, 71 percent of Americans said the healthcare system is "in a state of crisis" and "has major problems."
Dr. Marc Stern, a consultant in correctional healthcare in Olympia, Washington, believes there's an even greater problem regarding correctional facility healthcare.
The state of correctional facility healthcare, Stern claims, is generally problematic. "I have the privilege of working with a lot of jails in Washington State," he said. "We don't put nearly enough money into providing healthcare in correctional settings."
Correctional healthcare funding, he says, is complicated by nature.
Recipe for bad care
Stern, who spent the first half of his career working at the VA, says he started providing care in correctional facilities "totally by accident."
"They fired the doctor at the jail in my community because he missed an appendicitis diagnosis," he said. "They asked me if I would cover for three days. Then, three days turned into three weeks, which turned into three months…and it's just like how can you do anything else other than correctional medicine?"
Stern, who has lived in Olympia since 2002, previously worked with the county and state department of corrections in New York. The correctional population, he explains, is not only underserved, but is most often forgotten as an important public health population.
"Ninety-five percent of them come back to the community and they're sicker than the average person," he said. "If we can affect their health while we have them in jail or prison, then we have the opportunity to improve the public health and public safety of the community."
Along with inadequate funding of inmate healthcare, there's also the issue of inadequate oversight by jail or prison authorities. As a result, Stern says these two factors are a "recipe for bad care."
Providing care for those in jail or prison, he says, should be a no-brainer for citizens in the community. "If you're a citizen in the street, it makes you safer and healthier if you provide care to a person in jail or prison."
Another issue regarding financial backing of the correctional healthcare system is the apparent disconnect between who pays and who benefits.
"There are a lot of jails and prisons who want to do the right thing; they know it's important to provide treatment for substance dependence and abuse. It's expensive to do and they have a limited budget," said Stern.
For example, if you invest $1 in drug treatment for someone while they're in jail or prison, then the community gets $5 back in benefits.
"The jail has to make a difficult decision," Stern explained. "Do they spend $1 they don't have so the rest of the community will save $5?" The jail administrator, he says, needs to spend their allocated money wisely because it's already so limited.
In addition to the financial disconnect between spending money on jail and prison healthcare and the benefit communities and facilities receive in return, there's also an issue of how to properly care for individuals addicted to drugs.
A big drug problem
Caring for drug-addicted individuals is problematic for jail and prison authorities, but the biggest problem, according to Stern, is for the communities.
"What's special about jails and prisons is that you literally and figuratively have a captive audience," he said. "If you have someone with a drug problem and they get arrested, then what better of a time to motivate someone? You don't have that golden opportunity in the community."
This unique opportunity at the jail level, he says, is one way for a drug-dependent person to have a breakthrough.
Roughly 50 to 55 percent of everyone in Washington State who has an opiate addiction problem, Stern added, will come through the doors of a jail or prison this year: "If a community wants to address the drug problem, then they can see 50 percent of the people in their entire community that have an opioid problem by just sitting by the doors of the jail."
In a perfect world, jails should not be a public health treatment facility – that's not what a jail is for. However, unfortunately for the moment, they are.
"If the crime is drug-related, then we should find ways other than incarcerating them" said Stern. "We should treat them. It would make more public health and public safety sense."
Drug-dependent people, who are being sent to jail or prison, need treatment and care that was not designed for that environment.
"Most places don't have the expertise or the money to make this happen," said Stern.
Much like the issue of providing proper care of drug-dependent inmates, there's also an overlapping concern of how to treat those who are mentally ill.
The new asylum: Jails and prisons
A report by the Treatment Advocacy Center found that nearly 360,000 people with mental illness are housed in prisons and jails. Shockingly, only 35,000 people with mental illness are housed in mental hospitals. Another frightening statistic, according to a study by the U.S. Bureau of Justice Statistics, is that 75 percent of women incarcerated in jails and prisons have a mental illness.
"We can't cure lung cancer by arresting people, so why do we think we can cure mental illness by incarcerating people? We treat mental illness by incarceration by default," said Stern.
According to Stern, there needs to be better treatment opportunities within the community: "We need to make sure people have their medication and have access to care. That's part of the problem – a lot of these folks are either not insured, underinsured or homeless. They don't have access to mental healthcare until they commit a crime. All of a sudden, they're incarcerated and now it's the responsibility of the jail or prison."
Communities are letting down the jails and prisons, Stern argues, by failing to properly advocate for mental healthcare. He also says that communities need to include diversion programs.
"Instead of the police taking these people to jail, they take them to an emergency evaluation center where they can get good mental healthcare and not go to jail or prison," said Stern.
The cost and financial burden put on jails and prisons to treat inmates with serious mental illness can be expensive. And, eventually, these inmates – along with others not diagnosed with mental illness problems – become older and much more expensive to take care of.
Aging inmate challenges
One-quarter of Medicare spending, a Health Services Research report claims, is spent on patients in the last year of their life.
The number of people in jail or prison who are elderly is growing quickly. The first obvious impact regarding the increase in this population is that care becomes more costly. Secondly, the elderly population brings a different set of needs, which can become more complicated for jail or prison officials.
For example, an elderly inmate who has heart problems will require more heart medications and visits to their doctor. And, because of their heart condition, they will no longer be able to walk up a flight of stairs. As a result, you have a jail or prison that has a lower and upper gear, and, little by little, you won't have a bed on the first floor because some inmates can no longer walk up to the second floor.
Elderly inmates also come with cognitive and sensory deficits.
"Imagine you have residents in a prison who are standing outside in a rec yard and, all of a sudden, there's an order over the loud speaker for everyone to hit the ground. What do you do about the older inmate who couldn't hear? If he doesn't get down, then there's a chance that the guy in the tower may shoot because he think he didn't obey the command."
Dealing with the aging population, Stern says, will require additional training.
"Imagine you've got someone who's in a certain stage of dementia and an officer put his arm on the guy to move him along, and this person, who may not understand what's going on, punches the officer. In this situation, the person with dementia did not have any intent to harm the officer. You need officers who understand that," said Stern.
Geriatric-specific prisons, Stern says, is one way to make sure officers are well-versed and trained to tell the difference between someone who is criminally misbehaving and someone who is acting out as a result of their medical condition.
"If a patient went to take a swing at an officer, then they would have the sense to know that this guy has Alzheimer's. A lot of officers, without that training, might not think that through," said Stern. "The officer who has that training knows that inmate is going to make a swing at him and will know to not put a hand on him, to come from the front and not the back, and, if he does try to punch, the officer will try to talk him down as opposed to slapping cuffs on him and putting him in a cell for two weeks so he learns to not do it again."
These geriatric units, Stern says, are specifically designed to take care of the ever-increasing elderly population.
The units that are thriving acknowledge the challenges associated with this population and pair the appropriate mental health, social work and facility resources to make it successful and safe – for both inmates and correctional facility staff.
---
About the author
Sarah Calams previously served as associate editor of EMS1. In addition to her regular editing duties, Sarah delved deep into the people and issues that make up the EMS industry to bring insights and lessons learned to first responders everywhere.