Former Ohio COs blame poor management for high turnover in jail
Exit interviews from COs cited mismanagement, disrespect and distrust as their main reasons for leaving
---
By Kaitlin Durbin
cleveland.com
CLEVELAND, Ohio — After putting in her resignation, former Cuyahoga County corrections officer Rolanda Morris said she showed up to work her final three shifts in the jail to find her bosses had already cleaned out her locker and threw away her personal belongings.
A work sweater she'd purchased with her own money, a belt, her pair of handcuffs, training certificates, snacks, pens, library books – things she either needed for the job or that made her 16 to 18 hour shifts in the jail a little more comfortable – "All of it was gone," she said.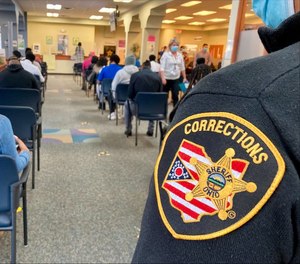 Her corporal told her the items no longer belonged to her because she was quitting, she said. She never got them back.
It was just another example of disrespect that she said drove her to leave after working just 9 months in the jail. It's also what compelled her to give an honest exit interview on her way out the door, accusing the "disconnection and lack of respect from management" for driving the high turnover in jail staffing.
Until management is replaced, she predicted, conditions in the jail can't improve.
"Management treated you like you were the inmate," Morris told cleveland.com and The Plain Dealer in a recent interview.
Mismanagement, disrespect and distrust were also among the reasons that 10 other corrections officers cited in their own exit interviews, copies of which were obtained by cleveland.com and verified with the county. The records give a glimpse of what working conditions are like in the jail at a time when its leadership is experiencing yet another change.
Cuyahoga County Interim Sheriff Steven Hammett announced abruptly and without proividing a reason Monday that he is resigning his post by Feb. 17, after eight months on the job. He is the sixth acting sheriff to leave the position within 10 years.
The county did not comment on the leadership concerns raised by the exit interviews. In his reading of the documents, county spokesman Tyler Sinclair said half of the employees reported positive experiences in the jail and "65% of them stated they left for reasons similar to any other organization," including retirement, caring for sick family members, relocating to a new state or getting to work from home.
He could not speak to how or if the interviews may influence future decisions in the jail – the county is currently seeking a second warden and three lieutenants – but he said the county does take the information into consideration.
"We appreciate and review all of the feedback we're given, whether it's negative or positive," Sinclair said. "We're constantly working to improve."
The employees who gave exit interviews reflect a very small portion of the 291 corrections staff who resigned, retired or were fired from the department in 2022 through January 2023, according to county records.
But their comments bolster many of the anecdotal problems with management that officers have been reporting over the past year, as county officials have debated spending hundreds of millions of dollars on a new jail.
Poor management
After five years in the jail, Charis Howard wrote that she would never recommend working for the county, at least not "until management is broken down and rebuilt from scratch."
She said she never felt like jail management considered her wellbeing or that of other officers, who were forced to work in increasingly dangerous situations, nor did they give her proper training to be successful in the job. She also accused jail leaders of making decisions without consulting or listening to officers on the ground about the real-world impact it was having on them.
"Your wardens are horrible," she wrote. "They show no respect for the officers. The sheriff and wardens should come on the night shift to see what all is taking place. They should respond to 10-25s (emergency codes) in the evening and not try so hard to crucify their officers."
She left for a new job with less pay and benefits. "But peace of mind makes it worthwhile," she wrote.
Similar refrains were echoed in nearly every other officer's exit interview. They referred to favoritism in the jail and described management – from corporals to wardens and up the command chain – as "out of touch," "unorganized," "unhelpful," "rude," uncaring and absent.
Morris had only a vague idea of who Warden Michelle Henry is, but told cleveland.com that she wouldn't know most of the jail's leadership, including Jail Administrator Ronda Gibson, if she passed them in the hall.
"They're 9 to 5 and they're gone," Morris said of top management. "The only time you see them is when trouble hits."
Mandated overtime
Tony DeFiore was one of few corrections officers who said he had a good experience with management and would recommend the job to a friend, but only if they could handle the "highly stressful working environment." From his experience, he touted the "great pay, great benefits, good support from employees and other coworkers," but said he disliked the stress and forced overtime.
Khalid Thomas also recommended the job, but said he left for better pay, safety, flexibility, and a better schedule, all things he said more aligned with his personal goals.
He liked working with inmates and said he "felt that I offered them hope." But the "unpredictable, corrupt, sometimes close-knit, juvenile, (cliquish), undisciplined" workplace was too much, he said.
Morris recalled to cleveland.com one time where she was mandated to work 16 hours, and still a replacement never showed up to relieve her. She said a duty lieutenant told her she could leave anyway, but she felt that would have put her partner in a dangerous position covering three housing pods alone.
Morris worked another two hours of overtime and then was told to come back for her regular shift later that night.
Safety
Former corrections officer Jasmine Harwell said she enjoyed her first half of her 13 years on the job but left last year after it became "very stressful and hostile."
She disliked the forced overtime and said the "inconsistent, disorganized and asinine" management made the stresses of the job even worse. The jail, she said, "has become very dangerous for staff," and though she did not list any specific hazards, she indicated that management had so-far turned a blind eye.
"Nothing is going to change until staff seriously gets injured or worse, and that is a sad fact," Harwell wrote.
The "toxic, exceptionally dangerous and hostile" conditions in the current jail also pushed Stephen Flynn out after 14 years. He accused upper management of hiding behind their office doors and leaving corrections officers to deal with the consequences of their decisions, including their lack of action to better protect their officers.
"Officers are being assaulted, groped and having urine/fecal matter thrown on them with no consequences," Flynn wrote in his exit interview. "The inmates know this and their behavior shows."
Inhumane conditions for inmates also added to work troubles, Morris told cleveland.com.
She described medical staff that was slow to respond, "deplorable" food, and a lack of respect for dietary needs around various holidays. She also reported unclean housing units and unwashed uniforms, conditions that cleveland.com has also been reporting.
While she was never assaulted on the job, Morris said she knows the conditions contributed to inmate unrest and led to physical assaults on other staff.
"I understand their charges, but at the same time they're human," Morris said of the inmates. "I want to treat people how I would like to be treated."
'Do better'
Morris said she knew working conditions would be difficult when she made the switch from the Oriana House to the jail, but she felt her background in human services and mental health conditions would allow her to do some good there and connect with inmates. She left "when I realized that's not the place to help," she wrote in her exit interview.
Today, she's a probation officer for the Cuyahoga County Juvenile Court.
But she hopes that sharing her story can help improve conditions for the friends and colleagues who remain in the jail. Those changes, she said, start at the top.
She urged county officials and jail management to take steps to improve morale and conditions for staff. If not, she warned, they will continue to face what she termed the "never-ending revolving door" of turnover.
"I wanted to stay, but it started to weigh on my mental health," Morris told cleveland.com. "I felt like nobody heard me."
Her recommendation was simple: "Do better."
©2023 Advance Local Media LLC.
Visit cleveland.com.
Distributed by Tribune Content Agency, LLC.
McClatchy-Tribune News Service