Going green: How new programs reduce recidivism
After release, formerly-incarcerated graduates of the program at San Quentin qualify for placement in $17-per-hour jobs transforming yards in underserved neighborhoods from lawns to permaculture food gardens
---
By Paul Sheldon and Burt Klein
Several "green" programs in correctional institutions around the U.S. provide assistance with job training during incarceration as well as job placement post-release, increasing the likelihood of successful reintegration into communities.
The National Institute of Corrections' Greening of Corrections report documents many such job-placement and recidivism-reduction programs, including Vermont's Vermont Works for Women program, which assists with job placement for formerly-incarcerated individuals.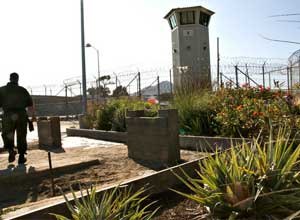 Vermont Works for Women program participants have demonstrated a recidivism rate of just 19 percent as compared with 51 percent among all formerly-incarcerated women in Vermont. [National Institute of Corrections, Greening of Corrections, p. 47]
In California, San Quentin's Insight Prison Garden Program has teamed with the Oakland-based Planting Justice to provide both pre-release master gardener training and post-release job placement.

Incarcerated individuals receive training in various gardening techniques, both in a classroom and in the prison's unique organic gardening program, through www.InsightGardenProgram.org. 
After release, formerly-incarcerated graduates of the program at San Quentin qualify for placement in $17-per-hour jobs transforming yards in underserved neighborhoods from lawns to permaculture food gardens. 
In addition to reducing "food deserts" in underserved neighborhoods in San Francisco's Bay Area, Planting Justice's "Transform Your Yard Program (www.PlantingJustice.org)" provides transitional employment and reduced recidivism, and has created more than 125 food gardens in place of lawns.
In Illinois, as described in NIC's Greening of Corrections report, the Safer program combines job training and preparation, education and support services, such as housing and substance abuse treatment. Safer boasts  a recidivism rate of just 13 percent for clients, compared to 52 percent for the state of Illinois (see http://www.saferfoundation.org/).
As these three shining examples have amply demonstrated, and as most corrections professionals have observed, providing job placement post-release does, in fact, reduce recidivism.
# # #
Paul Sheldon is a Senior Advisor with Natural Capitalism Solutions (www.natcapsolutions.org).
Burt Klein is the President of PortionPac Chemical Corporation, manufacturers of CorrectPac line of environmentally-responsible and sustainable cleaning products (http://www.portionpaccorp.com/industry-programs/correctional-facilities/).