How to improve correctional communications with T.A.P.
The ability to communicate effectively is probably the greatest skill correctional officers can learn
---
By Sgt. David Cardinal, C1 Contributor
Working in corrections involves many different communication methods. We communicate with inmates, coworkers, supervisors, administrators and the public. The ability to communicate effectively is probably the greatest skill correctional officers can learn.
We need to be able to communicate directives, ideas and concepts daily and sometimes with people who can be difficult to communicate with. There are times when we need to relay a lot of information to others for them to understand the totality of an event or situation.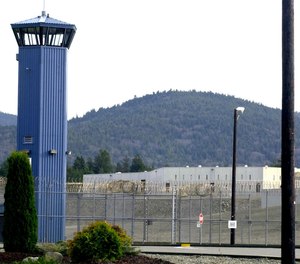 There are many distractions and barriers to effective communications in a correctional environment. It's easy to understand how inmates often struggle with good communication, as its likely part of what contributed to why they are in prison. However, our coworkers and superiors also have their challenges as well, and it can be difficult to communicate with them at times.
Communication efforts can take place verbally and at other times we need to be able to write out our messages. We need to be proficient in communicating in both ways. Crafting a strong message takes time and effort. Great thought must go into the words chosen and structure in which they are placed. While for some people this comes naturally, others can find it difficult, especially when immediacy is required. There are skills that can be learned that will make you a better communicator. In time, learning from your success and failures, you will hone these skills and find greater success the more you use them.
To effectively communicate with people, you need learn to how to persuade and influence them to gain their attention, so they hear what you have to say. There is an enormous difference between listening to someone and hearing someone. Once you have their attention, that's when you fill in your message with greater weight and meaning. How you communicate your overall message will determine the acceptance and longevity of your message.
I have found the following T.A.P. method effective when communicating with correctional staff and inmates:
Truth: Whether your message is about an event, situation, idea or opinion, you need to be able to articulate it to others with honesty and sincerity. To convey this information, you need to have knowledge of what you are speaking about; knowing the facts allows you to speak with truth. If you are unsure of the facts or your information is inconsistent, your message will sound chaotic and inauthentic. When you appear genuine and communicate truth there is a greater likelihood you will capture and hold a person's attention. This allows for communication that will be heard by the receiver of your message.
Assessment: Be prepared to respond to questions and challenges from those you are communicating with. Perform a through mental assessment of your message for aspects where others might agree or disagree. Prepare counterpoints to any challenges to help fortify your message, as well as additional details to aid in securing support for your messaging. Additionally, you will want to be able to demonstrate why other alternative options or ideas should not be given consideration, explaining how and why your message is the best course of action needed.
Poise: Maintaining your poise while communicating your message provides a stabilizing force that is difficult to ignore. Poise is more than just being confident; although that is a big part of it. Confidence comes from speaking truth and having thoroughly assessed your message. However, poise is also about maintaining a positive attitude and expressing your message with a cheerful passion. It's easy to allow something you are passionate about to become personal; when that happens, your feelings or ego can get bruised if you are challenged or disregarded. If that happens, resentment and anger can seep into your message and nothing pushes a person away faster than when negative emotional ranting hits their ears or eyes. Keep your message positive and on point. This will help you in maintaining your poise and wining over the person you are communicating with.
These three communication concepts may take practice, but they will "T.A.P." you into greater success when communicating with others. Becoming proficient in communicating will aid in your effort to persuade and influence people into accepting and supporting your message, ideas or opinions.
Good luck in all your endeavors. Be alert, be aware and be safe!
---
About the author
Sgt. David Cardinal has been in the service of the Wisconsin Department of Corrections since 1995. He has served at four different correctional facilities over his correctional career. He has worked in every area of correctional operations within medium and maximum custody levels and has been a strike team leader in an Emergency Response Unit. Additionally, he has been a field training officer helping to train and guide incoming security staff on the facility's daily functions and operations.