Judge considers federal oversight of poorly-managed V.I. jail
A judge is contemplating federal receivership, which would mean appointing a third party to manage the jail, taking control of the facility away from the V.I. Bureau of Corrections
---
Suzanne Carlson
The Virgin Islands Daily News, St. Thomas
ST. THOMAS — Despite a quarter-century's worth of court hearings, contempt orders and promises from the local officials, U.S. District Court Judge Curtis Gomez said Friday he's seen little evidence that the Virgin Islands government is capable of managing a jail.
"We are 25 years into this," Gomez said. "My sense is that something ought to be done."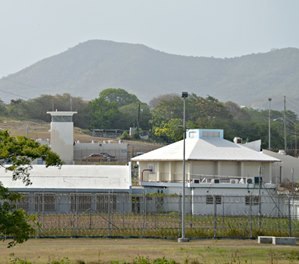 While he did not make any decisions following Friday's hearing in U.S. District Court on St. Thomas, Gomez ordered both parties — the American Civil Liberties Union and the Virgin Islands government — to file briefs by June 7 on what action they believe he should take.
Gomez is contemplating federal receivership, which would mean appointing a third party to manage the jail, taking control of the facility away from the V.I. Bureau of Corrections. He also said Friday that he's taking into consideration some form of "coercive order," possibly fines or other punitive actions meant to force the local government into compliance with the U.S. Constitution, which protects citizens from cruel and unusual punishment.
"The court has been very patient, and has urged, pleaded, cajoled," Gomez said. "The challenges remain."
The ACLU brought on the case in 1994 and a consent decree reached in 2013 includes a list of requirements the local government must complete.
V.I. Assistant Attorney General Shari D'Andrade, who is representing the Bureau of Corrections, said newly appointed Director of Corrections Wynnie Testamark — who has held that position since February — has already undertaken significant efforts to comply.
D'Andrade pointed to a reconfiguration of the mental health unit and a new contract with a South Carolina psychiatric treatment facility, which received 10 mentally ill inmates last week, as evidence of progress.
But ACLU attorney Eric Balaban said the jail remains dangerously understaffed, mentally ill individuals are being left to suffer without proper treatment, "and the facility itself is inherently dangerous."
Rather than spend money on a new jail that would require fewer staff and save money long-term, Balaban said the government currently spends up to $15 million annually to send Virgin Islands prisoners to stateside treatment facilities, and continues to focus on stop-gap solutions.
Testamark acknowledged that the jail at the Criminal Justice Complex on St. Thomas is inadequate.
She said a new "direct supervision" facility, in which guards are physically present in units rather than watching from remote monitors, must be built before the Bureau of Corrections will reach compliance, and the bureau is exploring a "public/private partnership" to build a new facility.
Testamark said a psychiatric facility capable of housing prisoners in the territory is also needed, as there is currently nowhere for those suffering mental issues to go.
Court appointed mental health expert Kathryn Burns said the local government is considering opening 62 beds for mentally ill inmates at Golden Grove Adult Correctional Facility on St. Croix, but officials have yet to show her plans for such an arrangement.
Gomez said it's apparent the territory has "a mental health treatment crisis" and asked how much money it would take for the government to be in compliance with the consent decree.
"About $50-60 million, and we don't have that," Testamark said.
The Bureau spends roughly 10 percent of its overall budget, or $3.8 million, on overtime costs because of an ongoing staffing shortage territorywide.
Balaban said that shortage has only grown worse, and eight individuals have resigned in the last year.
Court-appointed security expert David Bogard has said the jail should have 64 officers on staff to ensure the safety of prisoners and guards. There are currently 29.
"So, you're less than 50 percent of what you need?" Gomez asked.
"Yes," said Assistant Corrections Director Everett Hansen. "The monies to hire is not the problem right now, it's getting people in the door."
The jail's consent decree is just one of several such cases to come before Gomez in the last week, and he said Friday that it appears the Virgin Islands government doesn't have the funds necessary to continue providing many critical services.
In the case of the jail, Gomez wondered aloud whether he should "wait for a crisis — or, a greater crisis — to occur before appointing a receiver?"
"We've had testimony about suicides, we've had evidence of attacks, we watched video of a cell being set on fire," and of guards assaulting inmates, Gomez said. "I think there's been much patience that's been expressed by this court."
Testamark asked for an opportunity to show the court she's capable of reforming the jail.
"Give us another couple years," Testamark said.
———
©2019 The Virgin Islands Daily News (St. Thomas, VIR)
Distributed by Tribune Content Agency, LLC.
McClatchy-Tribune News Service