Lawyers: NC prison officials made it easy for inmates to attack
At one of North Carolina's most dangerous prisons, inmates frequently used knives to attack each other
---
Ames Alexander
The Charlotte Observer
CHARLOTTE, N.C. — At Lanesboro Correctional Institution, one of North Carolina's most dangerous prisons, inmates frequently used knives to attack each other.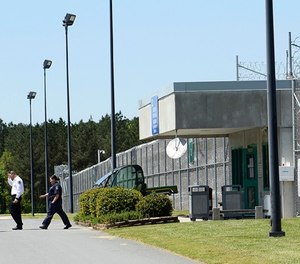 Officials there often failed to find the weapons and rarely referred the attackers for criminal prosecution.
Those were among the arguments made Monday during the opening day of a federal trial that will examine key questions: Did Lanesboro's top official ignore problems at the maximum security state prison? And did he allow one of his managers to maintain a "violent, contraband-driven fiefdom"?
In its defense, the state denies that Lawrence Parsons, Lanesboro's former top official, "enabled and permitted a culture of violence." Parsons acted reasonably to protect inmates, the state says.
Taking the stand at Charlotte's federal courthouse Monday, Parsons acknowledged that his staff sometimes did not refer assaults to prosecutors. The local District Attorney's office had notified prison officials that they would not prosecute inmates who assaulted other inmates unless the injuries resulted in outside medical care, he said.
Located about 45 miles southeast of Charlotte, Lanesboro will soon be converted to a women's prison - a major change that state leaders hope will improve safety and security.
An investigation by The Charlotte Observer last year found that state prison policies and management failures allow corruption and violence to thrive.
A video taken inside Lanesboro in 2012 - and obtained by the Observer - shows former unit manager Jeffery Wall met with gang members just minutes before those inmates became involved in a fatal attack. Hours after the murder, video also shows Wall gesturing to the killer. To investigators and the killer's lawyers, his meaning seemed clear: Keep your mouth shut.
Later, investigators found bloody weapons in the ceiling of Wall's old office.
In a court filing, Wall said he never facilitated attacks.
The lawsuit being litigated this week was brought by Stacey Wynn, an inmate who suffered serious injuries following two November 2011 assaults at Lanesboro. Wynn, who is serving a life sentence following a 2008 murder conviction, was permanently disabled after one of the attacks, his lawyers say.
Wynn alleges that another inmate stabbed him in the chest with a weapon resembling a filet knife, then threw a chair at him. It wasn't until six months after the attack - after he was transferred to another prison - that Wynn got treatment for a torn rotator cuff suffered in the fight, his lawyers say.
Wynn alleges that Parsons was "willfully and deliberately indifferent" to his safety, in violation of his Constitutional right to protection from cruel and unusual punishment. In court documents, Parsons has denied that.
In his lawsuit, Wynn alleges that Wall "deliberately fostered gang violence" in the unit he was charged with overseeing, and that his staff opened secured doors to let gang members into other housing areas "to commit acts of retributive violence."
Wynn also contends that Parsons knew of many of the problems but "did nothing with that information."
Parsons has denied the allegations.
On Monday, Wynn's attorneys questioned Parsons about whether his staff took sufficient steps to find weapons - and why prison officials rarely referred such cases for criminal prosecution.
"That created a perverse incentive that didn't deter inmate-on-inmate attacks," argued Scott Holmes, one of Wynn's attorneys.
The lawyers showed the jury prison surveillance video of the attack on Wynn, pointing out that one inmate appeared to pick up something after the assault - possibly a weapon. But a prison report on the incident says no weapon was found.
Parsons told the jury his staff "searched diligently" for weapons after fights, but acknowledged that they did not always find them.
Asked why his staff didn't search every inmate in a housing dorm after weapons went missing, Parsons said the prison did not have sufficient staff to do so.
"There's no way to shake down a whole wing," he said.
©2018 The Charlotte Observer (Charlotte, N.C.)