Like flying drones? SD lawmakers debate new rules
Lawmakers could ban drones from flying over jails without permission and make their owners responsible for damage caused by a crash
---
By James Nord 
Associated Press
PIERRE, S.D. — Drones couldn't soar over jails without permission and their owners would be on the hook for damage caused by a crash under new rules South Dakota lawmakers are set to consider on Tuesday.
The House Transportation Committee is set to take up the bill, which has been passed through the Senate. It would give South Dakota a better outline of what people can and can't do with drones, said Republican Sen. Arthur Rusch, the bill's main sponsor.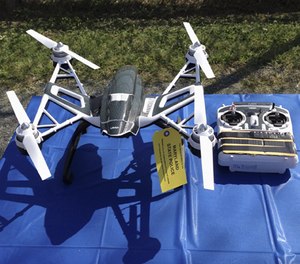 "I think we're going to see a lot more drones — not less," Rusch said.
There were more than 2,000 hobbyist drone owners registered in South Dakota as of this month, according to the Federal Aviation Administration, which has its own rules for drone users.
The South Dakota bill would block drones from alighting on other people's land without their consent, except during forced landings, and would make the drone's owner liable for damages resulting from a crash. It would also make it a misdemeanor to use drones to photograph or observe people in private places.
It would make it a misdemeanor to fly them without permission over correctional facilities such as jails and prisons and military facilities. Under the plan, it would be a felony to use a drone to deliver drugs or contraband to a correctional facility and to have a drone capable of firing a bullet or being used as a weapon.
The bill includes some exceptions including for commercial users, the military and law enforcement.
Department of Corrections Secretary Denny Kaemingk said during a committee hearing that drones flying over correctional facilities are a safety threat. Officials don't know of any successful contraband drops using drones in South Dakota, but they have intelligence that there have been plans to do so, he said.
"This is concerning not only for the introduction of contraband like drugs, but also introduction of weapons that could be used against our staff or other inmates," Kaemingk said.
Tim Kennedy, who works at Who's Hobby House, a Rapid City hobby store, said that most people he talks to think that state regulation would be unnecessary. The benefits would be minimal and people could be discouraged from taking up the hobby, said Kennedy, who typically goes hiking with his drone.
Jerry Schmitz uses a drone for tasks ranging from monitoring soil conditions to checking for crop damage on his Vermillion farm, which has corn and soybeans. The 60-year-old said he supports regulations that protect the privacy of individuals and businesses, but said he wasn't familiar with the details in Rusch's bill.
Schmitz' drone offers a "totally new view" that has made his farm more efficient, he said.
"It's like a whole new world, kind of like the first photos from space that folks saw back in the 1960s," he said. "It opens a new world for us."