Mo. continues to struggle with shortage of COs
The CO shortage at one of Missouri's prisons is so dire that the DOC is busing in workers from other facilities
---
By Kurt Erickson
St. Louis Post-Dispatch
JEFFERSON CITY, Mo. — A shortage of guards at one of Missouri's maximum-security prisons is so dire that the Department of Corrections is busing in workers from other facilities to keep the 1,400-inmate lockup operating at safe levels.
In November, corrections officials said more than 70 officers from three northwest Missouri prisons surrounding the Crossroads Correctional Center and the Western Missouri Correctional Center, both in Cameron, were being paid overtime rates not only for working in the facilities but for sitting on the buses for the 90-minute round trip.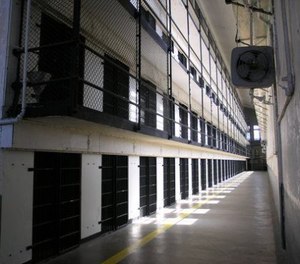 "We definitely do have a staffing shortage. We have about 11,000 employees throughout the state. Currently we have a shortage of more than 400 custody staff," DOC spokeswoman Karen Pojmann said.
The shortage is not new. The buses have been running among Cameron, St. Joseph and Chillicothe for more than two years.
But an early look at budget plans shows the sprawling agency is actually requesting fewer employees on its payroll next year.
Look at salaries for Missouri's Department of Corrections
According to budget documents filed with Gov. Eric Greitens' budget office, the prison system would have at least eight fewer workers beginning in July 2018 at a time when the number of inmates is projected to rise by nearly 400 to 33,223.
The department, which has the largest workforce of any state agency, has been grappling with staffing shortages for years. Low pay for guards and tough working conditions have led to a turnover rate of 17.7 percent in 2016. The rate is worse in St. Louis at 18.7 percent, according to figures compiled by the Office of Administration.
The shortage across the state's 21 prisons has sent overtime costs skyrocketing.
The agency spent $7 million in overtime in 2013, $8 million in 2014 and $9 million in 2015. The amount ballooned to $19 million last year and sits at nearly $7 million through the first five months of this fiscal year.
Gary Gross, executive director of the Missouri Correctional Officers Association, said the situation was untenable. Some guards are working 16 to 20 hours of overtime every week.
"It's causing a tremendous amount of overtime," Gross said. "It certainly is not good."
In a note to union members in September, the association said the short-staffing raised serious safety concerns for workers within the prison walls because inmates were aware of the problem.
"They know how short-staffed we are as well as anybody. Our state government is aware. They have the statistics on prison staff shortages. They know that it increases our chances of being hurt and that it increases the chances of riots and discourse within the inmate population," the statement reads.
One potential answer under discussion is a reduction in the number of workers covering the various shifts, said Rep. Kathie Conway, R-St. Charles, who chairs a House appropriations committee on public safety spending.
In a meeting with top prison officials last week, Conway said new Corrections Director Anne Precythe is considering a plan that could reduce the number of guards working various shifts to nine from 12, for example.
"They may be able to use less people on a shift than they did before because of different new policies they are putting in place," Conway said.
The department also is constantly trying to recruit new workers. The minimum age to qualify for a job as an officer has been lowered to 19, down from 21. In 2015, the agency began accepting job candidates without a license to drive.
"I can tell you that we are working on recruitment of staff — particularly custody staff — at all of our facilities," Pojmann said. "We've been recruiting through Facebook and getting a lot of response, and we're in the process of rolling out a series of advertisements. We also have offered incentives to staff who recruit new employees."
Still, Pojmann said, there are as many as 70 vacancies at Crossroads, largely because the hiring pool in the region is depleted.
The agency also has been embroiled in a sexual harassment scandal that has cost taxpayers millions of dollars. Along with stressful working conditions because of the inmates, female employees have accused their male counterparts of lewd behavior and physical abuse.
That has led to a shake-up among top administrators in the agency's central office, as well as in some of the state's prisons.
Pojmann, however, said the hiring problems were the result of a stronger economy.
"Throughout the state, we're facing a job seekers' market, and we have to compete with private industry for staff," she said. "Not everyone understands the enormous variety of types of jobs available both inside and outside our institutions, with staff in all fields — education, culinary arts, law, health care, social work, construction, heavy equipment operating, etc. — working together on improving people's lives and making our communities safer, which many people find rewarding."
Conway said she was hopeful the new administration under Precythe would find a way to bring more workers into the fold.
"They are working hard to change their image and make it a place where people want to work," Conway said.
One of the major causes of the hiring and retention problems — low pay — remains unresolved. Conway said she would like to see correctional officers and other state workers get raises, but another tight state budget could stymie that effort.
According to a 2016 report, Missouri state government workers are the lowest paid in the nation.
The same goes for correctional officers, where starting pay is advertised at $28,824 annually, which equates to about $13.85 an hour.
"The pay is terrible," Gross said.
In February, Greitens said he favors giving workers raises but suggested the state get the added money by shrinking the workforce. Conway likes that approach but acknowledges the state would be hard-pressed to further shrink the Department of Corrections.
©2017 the St. Louis Post-Dispatch