Neb. prison funding a priority despite budget shortfall
Lawmakers face a budget shortfall when they convene in January, but members of a budget-writing committee say they still hope to boost funding for the state's prison system
---
By Grant Schulte
Associated Press
LINCOLN, Neb. — Nebraska lawmakers face a looming budget shortfall when they convene in January, but members of a key budget-writing committee say they still hope to boost funding for the state's problem-plagued prison system.
Senators on the Appropriations Committee said it's too early to know exactly how they'll balance the budget while addressing major staffing shortages in the Department of Correctional Services. The options could include cuts to other programs, delaying action on other spending requests and tapping the state's cash reserve.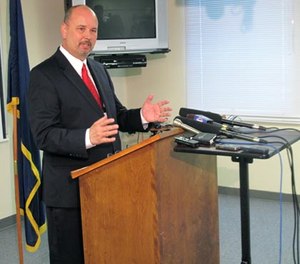 The department unveiled a package Thursday that includes a $15.6 million budget increase to reduce staffing shortages and turnover in Nebraska's prisons. If approved, it would allow the department to hire roughly 165 full-time employees in a variety of jobs and boost the department's total budget to nearly $223 million.
In addition, the department is asking lawmakers for $75.2 million over four years to build a new reception and treatment center in Lincoln for elderly and severely mentally ill inmates.
Nebraska faces an estimated $113.7 million budget shortfall in the current fiscal year that ends June 30, 2017, according to the Legislative Fiscal Office. For the next two-year budget cycle that ends in June 2019, lawmakers will have to fill a projected $352.7 million gap to maintain the minimum reserve balance required by law. Total state spending is expected to reach $9.4 billion in the two-year cycle.
Sen. Dan Watermeier of Syracuse said lawmakers need to find the money to address the state's prison problems, even if it means less of a focus on other priorities. Watermeier's district includes the Tecumseh State Correctional Institution, where inmates staged a deadly riot in May 2015, but he's also a farmer who frequently hears complaints about rising agricultural property taxes.
"We're going to have to look past the budget shortfall and prioritize it," Watermeier said. "That's going to be a hard sell for some of my constituents, because they want to talk about property taxes."
Watermeier said policymakers need to act immediately to address high turnover in the corrections department and look at major property tax reforms as a longer-term goal. He said it's too early to know how exactly how much a prison package will cost because the state has only started to negotiate with the union that represents prison workers.
Lawmakers will have to sort through competing state agency requests while balancing the budget, but some problems in the prison system have been ignored for too long, said Sen. Robert Hilkemann of Omaha. Hilkemann praised the corrections department's detailed budget request, saying it shows Director Scott Frakes has thoroughly analyzed the problems.
Hilkemann said lawmakers may want to tap the cash reserve for some of the department's short-term requests.
"It appears to me that we've kept the prisons on the back burner, wishing it would go away, and it hasn't," Hilkemann said. "We're going to have to find solutions."
Some non-prison programs could see "a significant decrease" in their base funding, and lawmakers may reject or delay action on new funding requests, said Sen. John Kuehn of Heartwell.
Kuehn said he wants to ensure the department has what it needs to protect the public. Paying for the extra prison spending through across-the-board cuts to other aren't probably isn't the best approach, he said.
"It's going to require very deliberate and strategic prioritization," Kuehn said. "We're going to have to be honest and realistic about what the priorities are for the entire state. Public safety is a top priority."
Sen. Kate Bolz of Lincoln said it's too early to know whether lawmakers will fully grant the department's request, but acknowledged it will likely rank high as a priority.
Bolz noted that lawmakers still don't know how large the projected shortfall will be when the Legislature reconvenes in January. The Nebraska Economic Forecasting Advisory Board is scheduled to meet next month to update its state revenue estimates.
In addition, three of the Appropriations Committee's nine members are leaving office because of term limits.
"I certainly think it's on the short list, but of course we have elections in November," Bolz said. "There are a lot of unknowns."
Bolz said she was pleased to see a request for additional prison employees to address staffing shortages and hopes the department will address the concerns of senior workers who aren't receiving longevity pay bonuses. She said she still has questions about the proposal to build an inmate reception and treatment center.
Copyright 2016 The Associated Press. All rights reserved.