Neb. prison officials unveil plan for staffing shortage
The proposal would allow the department to hire 165 full-time employees in a variety of jobs and boost the department's total general budget
---
By Grant Schulte
Associated Press
LINCOLN, Neb. — Nebraska's corrections director unveiled a budget package Thursday that includes a $15.6 million increase to reduce staffing shortages and turnover in the state's prison system.
Scott Frakes announced the two-year budget package after meeting with state lawmakers. If approved, the proposal would allow the department to hire roughly 165 full-time employees in a variety of jobs and boost the department's total general budget to nearly $223 million.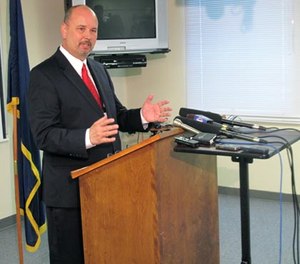 The proposal includes funding requests for 135 new protective service staffers that keep the prisons secure. It also would boost the number of healthcare providers, employees to coordinate various programs and a grant writer to seek outside funding. A new classification administrator would help ensure inmates are sent to facilities offering treatment that matches their needs.
Frakes said the prison's employee turnover rate has been as high as 32 percent annually.
"If we can impact that turnover, it will do a lot to solve our problems," he said.
The request coincides with a state watchdog report released Thursday that said the prisons remain short-staffed and are struggling to keep employees. The report by the Office of Inspector General of the Nebraska Correctional System highlights many of the corrections department's lingering problems.
The state prison system had 252 vacant positions as of June 30 while housing nearly 5,200 inmates in facilities designed to hold 3,275, according to the report. The department currently employs about 2,300 people.
When employees quit, those who remain face longer hours and larger workloads, the report said. The added stress causes even more fatigue and burnout, which creates safety risks inside the prisons, it said. When newer, inexperienced workers arrive to replace those who quit, inmates sometimes become more hostile and violent because they feel they aren't treated with respect.
The staffing shortages create problems for such things as drug treatment, counseling and rehabilitation for inmates, the report said. With a lack of workers to teach classes, inmates have to wait longer for treatment and rehabilitation.
"Everything boils down to staffing," said Doug Koebernick, the inspector general for Nebraska's prison system.
Nebraska's prisons have struggled with a spate of high-profile incidents, including a May 2015 riot in Tecumseh that left two inmates dead, the June escape of two convicted sex offenders in Lincoln and last month's assault on nine employees outside of a Lincoln Correctional Center housing unit.
The average amount of employee overtime has grown in the last few years, according to the report. The average amount of overtime in the first half of 2016 was nearly 29,000 hours per month, the report said. In 2014, the average overtime was slightly higher than 22,000 hours per month.
Some employees who worked the most overtime claimed as many as 1,000 additional hours on the clock, the report said. One worker logged an extra 2,839 hours in one year — the equivalent of working more than 90 hours a week.
"When correctional employees work high amounts of overtime, morale, burnout and fatigue can take place and mistakes or errors on the job can be made," the report said.
The report also urges officials to hire more minority staff members, including those who speak Spanish and other languages that are prominent among inmates.
Copyright 2016 The Associated Press. All rights reserved.