NYC judge bashes Brooklyn jail for failing to fix inmate's broken toilet
"I don't care if the defendant is Jack the Ripper," said Federal Judge William Kuntz. "We treat people under our care with respect and decency"
---
By Noah Goldberg
New York Daily News
        
NEW YORK — It took a handful of lawyers and a very p.o.'d judge to do one plumber's job: Fix a 60-year-old inmate's broken toilet in Brooklyn's federal lockup.
Among those unhappy with the situation is Brooklyn Federal Judge William Kuntz, who says he might seek a first-hand look at the Metropolitan Detention Center in Sunset Park to see what else is going on at the troubled prison.
"It's ridiculous that it takes distinguished defense counsel, distinguished prosecutors and an OK district court judge to get a toilet fixed," Kuntz said Tuesday.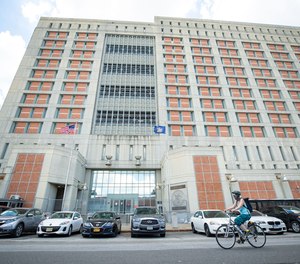 "I don't care if the defendant is Jack the Ripper," the judge said. "We treat people under our care with respect and decency because it reflects on the entirety of the criminal justice system."
"This is a disgrace. It's an ongoing disgrace," he added.
Kuntz's diatribe came in the case of Kassin Rivers, who's been jailed at the MDC on bank robbery charges since 2018.
Rivers told his lawyer Dawn Cardi on July 22 that the toilet in his cell was broken, but that due to a lockdown at the jail correction officers were refusing to take him out of the cell to allow him to use a different toilet.
"His toilet has been BROKEN for three days and there has been a lockdown and Officers refuse to help him by allowing him to use another toilet but even worse have failed to repair the toilet. No one will tell him when it will get repaired," Cardi wrote in a letter to Kuntz on July 23.
"He has nowhere to use a toilet," the lawyer wrote. "Staff laugh at him when he asks for it to be repaired."
The Bureau of Prisons did not respond to her letter, Cardi wrote.
While Assistant U.S. Attorney Jonathan Algor said Monday that the jail informed him the toilet was fixed on Friday, Kuntz said the level of intervention required from all the parties involved was absurd.
The judge set another hearing in the case for Friday — and suggested the hearing might be a good time to set up a visit to the MDC.
"I'm not going to sit here a few blocks away and not say, 'Let me see the people,'" he said.
The Bureau of Prisons declined to comment on Rivers' case, but said its policy is to make sure inmates are in cells with working toilets. "In the event a toilet became inoperable in a cell, all inmates in that cell would be relocated to another cell with fully functional facilities," said Emery Nelson, a spokesman for the Prisons Bureau.
Conditions at the MDC are regularly reported as disgusting and unbearable.
British socialite Ghislaine Maxwell — now awaiting trial on sex trafficking charges stemming to her association with Jeffrey Epstein — has complained through her lawyers of a "stench" that's "overwhelming" in her cell because of "overflowing of toilets in the cellblock above."
The MDC suffered a blackout during a cold spell in winter of 2019, and the deaths of four inmates in custody since 2020.
©2021 New York Daily News. 
McClatchy-Tribune News Service