Prophet in the Pen: How a small-town jail is dealing with a religious icon
The arrival of Warren Jeffs – the leader of the Fundamentalist Church of Latter Day Saints – has led to new policies at the Reagan County Sheriff's office
---
By Carol McKinley
Warren Jeffs hasn't let the walls of a jail cell stop him from delivering sermons to his faithful every Sunday.
"He buys calling cards from the commissary and any call he makes, he pays for," says Reagan County Sheriff Jeff Garner. Garner says the prison records Jeffs' calls in case they need them later.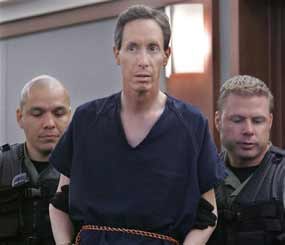 Jeffs is what you might call a "celebrity" inmate, awaiting trial for marrying and having sex with a 12 year old girl and for bigamy. Insiders say he has as many as 80 wives. A self-proclaimed Prophet, Jeffs has put tiny Big Lake, Texas on the speed dial of dozens of reporters.
Jeffs is the leader of the Fundamentalist Church of Latter Day Saints, or FLDS, a polygamous sect. In 2004, hundreds of FLDS members migrated to Texas from a religious enclave on the border of Arizona and Utah, an area is commonly known as Short Creek. It has been since that move to Texas that many FLDS leaders got in trouble for taking underaged brides.
Jeffs is being housed in Big Lake Jail as a favor to the Texas Rangers. His trial will be held this summer in San Angelo, Texas at the Tom Green County Courthouse, which is 70 miles up the road. This means every time there is a hearing in Jeffs' case, Garner's deputies must escort Jeffs in a patrol vehicle in cuffs, leg irons and a belly chain.
"I've got a serial killer who is accused of committing fifty murders in my jail right now, so Jeffs isn't the only high-profile prisoner. I did sit him (Jeffs) down when he first got here and told him he had to play by the rules," Garner said.
Big Lake, Texas has a population of 3000 people, but the jail is just ten years old and considered state-of-the-art. Garner admits one thing at Big Lake jail has changed since Jeffs got there: the mail room is overflowing with letters to Jeffs from his admirers.
Thousands of hand-written messages have come through the facility since early December, when the church leader first arrived. Garner laughs, "The number is so high, it's unbelievable. Some have money in them. And they come from all over!" Corrections staff reads all of the correspondence coming in and going out.
To his people, Jeffs has become a living legend, and this had Garner and his security staff concerned about potential problems. He developed and implemented security plans as soon as he knew Jeffs was coming. He says he's prepared for anything, especially since experts on the FLDS have warned him that Jeffs' believers do not respect laws outside of their faith.
Those observers say Jeffs' hold on his followers has gotten stronger since he's been incarcerated – that the FLDS believe their Prophet is being persecuted by the United States government for their religious beliefs. This perceived unfairness has inspired them to unite.
At the headquarters of a nearby construction company run by the FLDS, there is a poster of Jeffs on the wall. He stares ahead with a gentle look on his face, in his prison uniform holding a phone. Former FLDS'er Isaac Wyler explains the reason for the poster: "That picture is up there so the "sheeple" – or should I say "people" – reminded every day that Warren is sacrificing for them. He's become a martyr since he went to jail."
Wyler grew up in the FLDS faith but was kicked out when he refused to discuss the possibility of turning in his 9 year old daughter for marriage. "I told them if the Prophet tried anything, he would have to come through my baseball bat."
The FLDS faithful see Wyler as an "apostate." He did not move to Texas with the them. He has stayed in Short Creek, the original FLDS settlement on the Utah/Arizona border. Wyler keeps up on inside information from FLDS friends who are still practicing the religion. They've told him Warren Jeffs' most staunch believers are convinced the "....walls of the Big Lake jail will crumble" and their Prophet will return to lead them to Zion. They say he has prophesized that the end of the world will happen when an earthquake strikes "very soon." Jeffs relays these prophecies over the phone from Garner's jail.
"What he does with his time is okay," Garner says. "We treat him like any other prisoner." On visiting days, Jeffs has a limit of ten people who can come and see him. Usually, that limit shows up.
Garner says Jeffs eats prison meals with little complaint, although sometimes he buys other food from the commissary. He has a cell to himself. Of forty-eight beds, he is one of twenty prisoners being housed at Big Lake.
One huge change Garner has faced since Jeffs' arrival is the swarm of media he has to manage. Is there one issue he strongly recommends to any other corrections personnel who may have to deal with a high-profile inmate?
"You need a Public Information Officer to pick up the slack. These reporters just show up in the lobby unannounced!" Since Garner doesn't have the budget for a PIO, he takes media calls personally.
He says at the beginning he spent way too much time dealing with journalists, which were pulling at him from all sides. "Now, I get maybe one call a week. So it's slowed down quite a bit." Though Jeffs has had numerous requests to do jailhouse interviews, Garner doesn't allow them. He will likely be saying goodbye to his infamous visitor this summer.
Jeffs' trial, which was supposed to begin in February, has now been postponed until the end of July. If convicted, Jeffs will be moved to a state facility within the Texas Department of Corrections.