Release of "blind sheik" terrorist
The "blind sheik" is Omar Abdel Rahman, currently serving a life term for the '93 bombing of the WTC
---
Editor's Note: Terrorists in Algeria holding foreign and American hostages began to demand the release of Sheik Omar Abdel Rahman in exchange for their hostages' lives. Check out the related for more information on this developing story.
Last summer, Egypt's new President Mohamed Morsi called on the United States to reconsider the imprisonment and conditions of confinement for terrorist Omar Abdel-Rahman.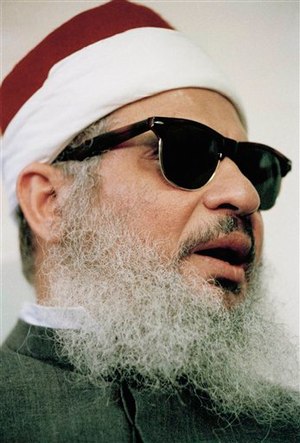 Known as "the blind sheik," Rahman was convicted in 1996 for planning terrorist attacks on the United Nations, tunnels, and landmarks in New York City. He served a portion of his life sentence in a maximum security federal penitentiary where I was Warden.     
Political Considerations
In a recent interview on CNN's "The Situation Room with Wolf Blitzer," Morsi said "I want him to be free, but I respect the law and the rule of law in Egypt and the United States." Morsi plans to ask President Obama about Rahman's conditions of confinement and any possibility of release during an upcoming visit to America. 
Rep. Mike McCaul (R-Texas), new chairman of the House Homeland Security Committee, said the release of Rahman "will only serve to embolden our enemies who continue to plot against us." Media remains focused on Egypt's push to release Rahman for humanitarian and health reasons – while the Obama Administration waits for a visit from Morsi to be scheduled.
Earlier this month, Senator John McCain led a congressional delegation to meet with Morsi, but their focus was on Egypt's transition to democracy and financial support from the United States. It is unknown if Rahman was discussed.
Incarceration & Special Administrative Measures
The 74-year old terrorist was born in Egypt and blinded as an infant by diabetes. He studied a Braille version of the Quran and graduated in Qur'anic studies from a university in Cairo. He has two wives and 10 children.
Although Rahman was jailed for attacking the government of his own country, in 1991 he was allowed permanent resident status in the United States. He preached in NYC and surrounding areas, until his arrest and trial.
After sentencing in New York, he was rushed to the United States "Supermax" Penitentiary in Colorado (also known as "Alcatraz of the West"). As warden of this facility, I had Rahman as one of my "high-profile" inmates.
The prison holds 400 of the nation's 218,000 federal inmates.  It is home to some of our country's most violent and evil criminals.  Rahman's imprisonment has become a rallying point for militant groups throughout the world.
During my tenure, staff treated all inmates (including terrorists) humanely, regardless of their personal opinion concerning an inmate's criminal history. Special Administrative Measures (SAMs) were authorized by the US Attorney General. Procedures (set forth in Title 28 of the Code of Federal Regulations – Section 501.3) addressed special confinement conditions.
The Attorney General authorized the Bureau of Prisons (BOP) to implement measures when there was "substantial risk that a prisoner's communications or contacts with persons could result in death or serious bodily injury to persons, or substantial damage to property that would entail the risk of death or serious bodily injury to persons." 
The SAMs included housing an inmate in administrative detention and/or limiting certain privileges, including but not limited to correspondence, visitation, interviews with representatives of the news media, and use of the telephone, as is reasonably necessary to protect persons against the risk of acts of violence or terrorism.
Rahman met the requirements for SAMs special measures. He did not have family visits and was limited to a variety of privileges. I communicated with Rahman on a regular basis. He had no access to other inmates and only authorized staff entered his cell. 
Rahman spent most of his time listening to religious tape recordings and studying. His access to legal representation continued while incarcerated. In 2005, one of his lawyers was convicted of conspiring to provide material aid to terrorism by smuggling Rahman's messages out of the prison to encourage violence by his world-wide followers. 
Future Plans  
Although it ius unknown what Morsi and the Obama Administration will ultimately decide, here is  what is known -- Rahman is currently at the Federal Medical Center in Butner, North Carolina, the largest medical/psychological complex in the BOP.  He probably will not be released from custody for political reasons.
On Rahman's birthday (May 3), it's doubtful if President Morsi will deliver a gift of freedom.  After his visit, Morsi will return to Egypt without Rahman, but with ongoing financial assistance from America (second to Israel, Egypt averages almost $2 billion every year in military and development aid). 
Rahman's SAMs will most likely be reviewed, but not as a goodwill gesture to the new Egyptian government. Federal prison officials will conduct a review and amend procedures as needed. They will do this to insure a safe and humane correctional setting, not for political reasons.   
Correctional staff within the federal prison system have the responsibility to do what is right and the global responsibly to maintain civility within a facility that represents our country. At the end of the day, staff need to return home knowing they assisted in the war on terrorism in a professional manner.