SC Juvenile Justice COs, staff walk off job in protest
Many said they had no plans to return to work until the department greatly enhanced staffing levels
---
By Zak Koeske , Emily Bohatch and Joseph Bustos
The State 
 
COLUMBIA, S.C. — Dozens of correctional officers and teachers who oversee South Carolina's juvenile offenders walked off the job Friday morning to protest low pay, poor management and safety concerns.
The employees left their shifts at the state's Department of Juvenile Justice facility on Broad River Road in Columbia at about 7 a.m. in protest of issues that have wracked the department for years, including staffing shortages, long shifts, lack of protection for officers and meager wages.
Many said they had no plans to return to work until the department greatly enhanced staffing levels and called for the ouster of the agency's director.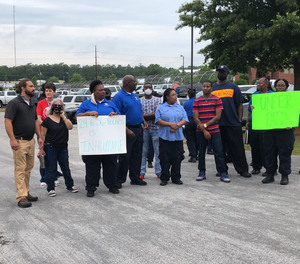 "If there aren't changes quick, we aren't going to work," said Jeremy Lee, who teaches welding at DJJ's Birchwood High School. "They need to either bring the federal government in or bring SLED (State Law Enforcement Division) in and take control of this place. They need to take care of administration, and get rid of the ones they need to get rid of. They need to do a full investigation. They need to rebuild this place from the ground up."
Gov. Henry McMaster, who appointed and has stood behind agency Director Freddie Pough, remained supportive of the embattled director Friday and criticized the correctional workers for walking out on the job.
DJJ spokesman Jarid Munsch did not provide comment on the walkout, except to say that the agency was aware of the workers' concerns and planned to address them. He said the agency remained focused on ensuring the juveniles in its care were receiving the services they require.
As of early Friday afternoon, DJJ had not requested assistance from any outside law enforcement agencies to help deal with the staff walkout, but both SLED and the state Department of Corrections were on standby and ready to respond if necessary.
The agency reassigned a number of public safety officers and investigators who already were working at the Broad River Road Complex when correctional officers walked off the job Friday morning.
Munsch said all staff the agency pulled to cover for the officers are certified to work with juveniles.
"The goal is to make sure our kids get what they still need on a day-to-day basis — their educational, clinical and rehabilitative services," he said.
The protest comes as the Department of Juvenile Justice and, more specifically, its director, Freddie Pough, are under fire from state lawmakers.
While the department has had a questionable reputation for years, a recent audit reignited the ire of state lawmakers. The audit found the department's secure facilities are critically understaffed, its correctional officers fear for their own safety and the youth in their care aren't adequately supervised or afforded timely medical treatment.
A similar audit completed four years ago contributed to the resignation of Pough's predecessor.
Correctional officers and teachers at the Broad River Road Complex, some of whom walked off the job and others who were not working but came in to show their support, gathered outside the facility, some with posters.
Brittany Larkin, who has been a correctional officer with the department for about a year, said she and others walked out over safety issues that stem from severe staffing shortages.
"I'm out here in solidarity with my other teammates because the job has become hazardous," she said. "Long hours, we're barely getting paid, at least two to three assaults on staff a week. We have staff members that are working 48-hour shifts with no food, nothing to drink."
Larkin said she fears retaliation from management for walking out, but believes it was necessary to bring attention to working conditions at the facility.
"As (juvenile correctional officers), we make this place revolve. Without us, none of this stuff moves," she said. "We protect the teachers, we protect the kids, we protect everybody that comes back here. But at some point somebody has to protect us."
Larkin and Acting Capt. Ricky Dyckes said conditions had deteriorated markedly in recent months, with many employees going on leave due to injuries suffered on the job and some simply quitting because they couldn't take it anymore.
"It really got critical, critical, critical, really within the last couple months," Dyckes said. "I mean it's to the point now that when you go to work you don't even know what time you're getting off, and you really can't plan for that."
He said it had become standard for juvenile correctional officers to work 24-hour and sometimes even 36-hour shifts. Agency police even had to drive one correctional officer home last week after she worked a 27-hour shift because she was too exhausted to operate her car, Dyckes said.
"Everybody's at a breaking point," he said.
SC lawmakers, governor weigh in on protest
South Carolina Sen. Katrina Shealy, R-Lexington joined employees Friday and assured them she was working on their behalf.
Shealy chairs a Senate subcommittee currently reviewing a recent audit of the agency.
"I'm glad they're doing it," Shealy said of the employees who walked out. "This is the only way we're going to get anything done."
She said the frontline workers inside DJJ facilities, who put their lives on the line every day, are underpaid, especially compared to management.
"I'm sorry that it had to come to this, but these people deserve better," said Shealy, who questioned why Pough wasn't on scene at the protest.
"He should come out here and meet these people face to face and try to have a conversation with them," she said.
Pough, whose office is off site, made what employees said was an extremely rare visit to the Broad River Road Complex Friday, but remained for most of the morning holed up behind the fence and didn't speak to workers or the media.
Hours later, at about 2 p.m. Friday, he stepped outside the complex at the request of protesting workers and tried to address their questions and concerns, Munsch said.
State Sen. Dick Harpootlian, D-Richland, who sits on the DJJ audit subcommittee with Shealy, called Friday's protest "the worst example of mismanagement of a state agency I've ever seen."
"What's more disturbing than Freddie Pough's mismanagement is Gov. McMaster's total abdication of any responsibility or authority to deal with what is obviously a renegade agency," Harpootlian said.
Pough, director since 2017, said the scathing April audit painted an inaccurate or incomplete picture of what was actually going on under his watch.
Lawmakers have asked South Carolina Attorney General Alan Wilson to review the report.
At a legislative hearing in late May, Pough was accused of being incompetent and asked to resign. He declined.
Lawmakers also hammered Pough about his agency's failure to report incidents of child abuse and neglect to the South Carolina Law Enforcement Division or the state's Department of Social Services.
"This is a leadership problem. Not a resources problem," state Rep. Micah Caskey, R-Lexington, tweeted Friday. He added that the state audit showed the department had millions of dollars unspent in its budget.
House Minority Leader Todd Rutherford, on the other hand, said a lack of resources was the primary issue plaguing the agency and blamed Republican leadership that he said had perennially neglected its needs.
"This department, like so many others in our state, had been underfunded for years," Rutherford, D-Richland, said in a statement that expressed support for the protesting DJJ workers. "It is past time that major changes take place within the DJJ. At the top of that list should be better pay and improved conditions for staff and teachers and increased funding across the board."
McMaster said Friday that the state Department of Administration's Human Resources Office was reviewing the agency's policies and that the executive budget office was reviewing the agency's pay and compensation.
The governor previously asked SLED to review DJJ's handling of criminal allegations and criminal investigations in response to comments Pough made about the agency's reporting protocols at a recent legislative hearing.
"We are working with Director Pough," McMaster said Friday. "This is a very tough job. We are doing all we can to bring the resources we have to bear to see that the situation is improved."
Despite acknowledging challenges at the agency, the governor criticized DJJ workers who walked off the job Friday and said they "ought to walk back in."
"There's no excuse for anyone to walk off from a job, particularly this kind of job, where leaving the post not only puts young people in danger but also puts enormous stress on those officers who are still in facilities trying to do their job to keep everyone safe," McMaster said.
    
(c)2021 The State (Columbia, S.C.)
McClatchy-Tribune News Service