States reducing ad seg under budget and legal pressure
Decisions to return dangerous inmates to the general prison population angers many staffers
---
By Kevin Johnson
USA TODAY
JACKSON, Miss. — State prison officials are reducing the number of offenders in administrative segregation -- once among the fastest-growing conditions of detention -- as budget pressures, legal challenges and concerns about the punishment's effectiveness mount.
States such as Mississippi, Texas and Illinois have decreased the number of inmates in solitary confinement, a dramatic acknowledgement, analysts say, that states can no longer sustain the costs of hard-line criminal justice policies.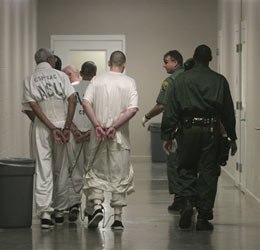 "The whole philosophy of being just tough -- locking people up and throwing away the key -- has not solved the problem," said Texas state Sen. John Whitmire, Democratic chairman of the Senate Criminal Justice Committee.
Decisions to return dangerous inmates to the general prison population anger some prison officials, who say the changes could threaten the safety of corrections officers and other inmates.
"The departments of correction are rolling the dice with public safety. ... This is going to blow up," said Brian Dawe of the American Correctional Officer Intelligence Network, an association of officers.
The number of prisoners in solitary confinement -- typically locked away for 23 hours a day -- grew 40% from 1995 to 2000 when there were 80,870 segregated inmates, a study by The Commission on Safety and Abuse in America's Prisons found. The overall prison population increased 28% during that time. Isolating prisoners, the private study found, is often "twice as costly."
The offenders are in single cells and require at least two guards to escort them to shower or recreation, said Mississippi Corrections Commissioner Christopher Epps.
Spurred by federal lawsuits over deteriorating prison conditions, Mississippi officials sharply reduced solitary confinement numbers in the past two years, from nearly 1,000 to about 150.
Epps said the move saved about $6 million and has not resulted in safety problems.
Other state actions:
*Texas: A plan for 6,000 drug rehabilitation beds designed to divert offenders from prison had a side benefit, Republican state Rep. Jerry Madden said: a reduction in the solitary confinement population, from 9,343 in 2007 to 8,627 this year.
* Illinois: A state prison review reduced the number of segregated offenders from 2,347 to 2,266, spokeswoman Sharyn Elman said.