Trump suggests Sheriff Joe pardon is coming
Sheriff Joe Arpaio was found guilty last month of criminal contempt for disregarding a court order in a racial profiling case
---
By C1 Staff
WASHINGTON — A White House pardon for Sheriff Joe Arpaio may be coming after President Donald Trump brought it up again at a rally.
In Phoenix on Tuesday, Trump told the audience that he wasn't going to pardon Joe "tonight"  because he didn't want to cause controversy, the Associated Press reported.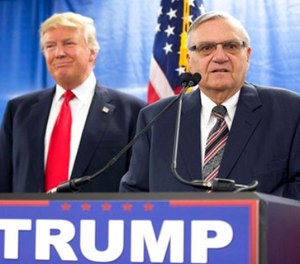 "So, Sheriff Joe was convicted for doing his job?" Trump said. "I'll make a prediction. I think he's going to be just fine."
According to CNN, the White House has drafted the paperwork for the pardon if Trump ultimately decides to do it. An administrative official said one of the talking points the White House is sending to surrogates is Arpaio's 50 years of service, which includes his time in the military, DEA and as sheriff. They argue that it's not right to send him to prison for "enforcing the law" and "working to keep people safe."
Arpaio was found guilty last month of criminal contempt for disregarding a court order in a racial profiling case. 
Arpaio is scheduled for sentencing on Oct. 5.