What corrections staff can learn from the Del. prison hostage standoff
Rioting often occurs when inmates feel their chance to be heard through proper channels has been ignored
---
On February 1, 2017, everyone working in corrections was glued to their television screens. The James T. Vaughn Correctional Center in Smyrna, Delaware was in the midst of a riot, and the corrections community was hit hard when we discovered Sgt. Steve Floyd was killed in the line of duty.
Just like at Holman Correctional Facility in Alabama or Souza-Baranowski Correctional Facility in Massachusetts, once control has been lost, all effort to regain and maintain must be aggressive. If we fail to bring a sense of ownership back to our house, the inmates will regain control and the integrity of the facility will again be in jeopardy. 
Facility lockdown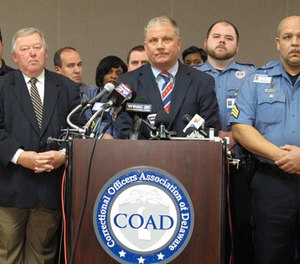 First, a decision must be made to lock the facility down and limit all movement. Unless, it's an emergency, inmates must remain in their cells until full control has been restored. Full control can only be restored once we eliminate the threat. This takes time and should not be rushed. Even though inmates are locked in their cells, their immediate/emergent needs will continue to be met. 
Locking the facility down reminds the inmates who is in control. This is a psychological tool that enforces the relationship between facility (the rule makers) and inmates (rule takers). This should never be negotiated.   
Mitigating negative influence
It is very common for inmates to form alliances and try to gain negative influence over others. Typically gang leaders or senior inmates try to employ this tactic. While it would be ideal to put them in solitary, away from any outlet of communication, this may not be feasible given the pressure that will bring from the uninformed. So, instead, most corrections facilities will transfer these influencers out to other facilities across the state. Corrections officers and leadership need to shake their foundation and not allow them to be comfortable.
Situational awareness
Corrections officers must remain vigilant by being aware of their surroundings and keeping their ear to the ground while gathering intelligence and keeping up with searches. Corrections officers and leadership must never become complacent. Corrections personnel should never find themselves walking around murderers and rapists with their hands in their pockets. When corrections officers are surrounded by the extremely violent offenders, they must be prepared for anything to happen at a moment's notice. Remember, even though the job may be defined by routine, corrections officers must find a way to be unpredictable.
Safety is paramount
For corrections management, even though you may be safe in your office, your part in keeping things safe is paramount.Take note of all grievances that come your way. Remember, inmates may try multiple outlets to voice their issues before rioting. Rioting often occurs when inmates feel their chance to be heard through proper channels has been ignored. Most of the concerns that can unite inmates are concerns that reflect basic human needs that should be met. If those needs are not met, inmates may find unity and justification in their cause to bring about recognition of their plight.
Corrections management must protect the frontline. Provide corrections officers with the proper tools and staffing (so they can prevent and not just react) that they need to maintain control and defend their position (if need be). The inmates need to respect the officers' position, and they will not do that if they see staff as an obstacle they can easily break through. In addition, each facility should always have a set response team ready to go the moment a code is called.  When inmates know a response team is waiting in the wings, they may think twice.
Uniformity and training
It is also important for corrections management to promote uniformity. Let the inmates see staff as a chain with no weak link. Promote good employee relations amongst all departments and all individuals within their departments. Let inmates see that staff and administration act as one and any effort to divide (us versus them) will be met with immediate discipline. 
The corrections profession has evolved and we can learn a lot from the successes and failures of other facilities. Learn from what other facilities are doing from a policy, procedural and training perspective. The corrections profession should not work in isolation of each other. It should be seen as one giant family that sticks together as a powerful force. 
Last but not least, corrections management needs to make training a priority. Spend the money and make sure every corrections officer is trained to handle real-life scenarios. Training should be scenario-based and live action. If you want corrections officers to be ready for the real thing, they must be exposed to real scenario-based training that is true to life.  
Corrections professionals work in a world that is very dangerous. They have to be ready for anything because they can be exposed to everything. Someone once said to me, "It must be scary, working with the worst of the worst."  I responded, "It could be, but remember, I am also surrounded by the best of the best."