Bill to make firing squad Idaho's backup execution method has more than doubled in cost
The state's governor said he would consider signing the newly proposed bill into law if passed by legislature
---
By Kevin Fixler
The Idaho Statesman
BOISE, Idaho — The cost of implementing a bill that seeks to make the firing squad Idaho's backup execution method has more than doubled since it was last reviewed by the state prisons system, according to a spokesperson for the agency.
The Idaho Department of Correction's initial estimate to build out the venue for such an execution, as an alternative to lethal injection, is $750,000, spokesperson Jeff Ray told the Idaho Statesman. In 2014, when the department last considered the firing squad, costs were expected to reach at least $300,000, which IDOC determined "would take too much time and money" in choosing not to go forward with the plan, Ray said at the time.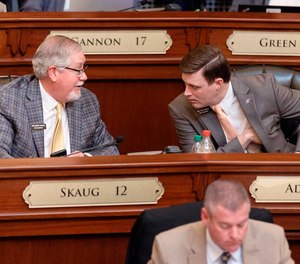 State Rep. Bruce Skaug, a Nampa Republican, last week proposed the bill to use a firing squad as the state's reserve execution method. Idaho previously offered it as an alternative to lethal injection, but removed death by firing squad in 2009 as the controversial method went unused.
Skaug, a former Ada County deputy prosecutor, last year indicated lawmakers would bring forth the legislation if execution drugs continued to elude the state. The House committee that Skaug chairs will need to approve the bill before it heads to the House floor for a vote.
"This is a rule of law issue: Our criminal system should work, and our penalties should be exacted," Skaug told a legislative committee ahead of its approval. "When promised and deserved, the death penalty should be duly invoked."
Idaho last executed an inmate in 2012. The state's death row currently houses eight residents.
In November, prison officials postponed the execution of longtime inmate Gerald Pizzuto after they proved unable to acquire lethal injection drugs for his scheduled execution. As a result, a "de facto moratorium on capital punishment" remains in place, IDOC spokesperson Jeff Ray told the Statesman last week.
Nonetheless, Attorney General Raúl Labrador on Friday announced the latest attempt to execute Pizzuto, obtaining the third death warrant in two years for the man convicted in 1986 of a double murder. Idaho's prison system once again is trying to find the drugs to perform Pizzuto's lethal injection, IDOC said following Labrador's action.
Whether prison officials will succeed this time around is unclear.
Skaug said during a committee meeting he thinks a firing squad is more humane than lethal injection, which, he noted, has a history of botched executions. Other states have in recent years added the firing squad as an option, as lethal injection drugs have increasingly become difficult to obtain, Skaug said.
Of the 24 U.S. states that maintain active capital punishment, four have the firing squad as a backup execution method: Oklahoma, Utah, Mississippi and South Carolina. Idaho could become the fifth, but not without possible legal challenges.
South Carolina was the last state to approve a firing squad, in 2021. The state's supreme court heard arguments last month over the legality of the execution method after a lower court ruled it — and the electric chair — as unconstitutional. The Eighth Amendment of the U.S. Constitution prohibits cruel and unusual punishment.
Utah was last in the U.S. to execute an inmate by firing squad, in 2010.
[PREVIOUS: Idaho's firing squad bill surprises state prison officials after announcement]
Little: 'Haven't given up' on lethal injection
Idaho's prison system considered asking state lawmakers in 2014 to reinstate the firing squad as an alternative, the Spokesman-Review reported at the time. The concept never moved forward because of its expected costs.
Skaug's bill came as news to IDOC earlier this month, Ray said by email. The department was not involved in its development, he said.
"We are working to refine that estimate as quickly as possible," Ray said, adding that Skaug was informed of the cost the day before he introduced the bill. Skaug did not return the Idaho Statesman's requests for comment.
Last year, Department of Correction Director Josh Tewalt testified on behalf of a different bill, which later became law, that sought to conceal identifying details of execution drug suppliers to help state prison officials carry out lethal injections. While doing so, Tewalt advocated against restoring the firing squad.
"I don't think you could expect fewer legal challenges to a firing squad," Tewalt said last February before a House committee. "And more importantly, I don't feel, as the director of the Idaho Department of Correction, the compulsion to ask my staff to do that."
If the Legislature passed the newly proposed bill concerning executions, Republican Gov. Brad Little said he would consider signing it into law.
"I think it's only in lieu of our current system not working, and I haven't given up on our current system," Little told the Statesman on Friday at a press event. "I'm a proponent for capital punishment, but we need to do it in the most dignified and humane manner that creates the least amount of stress" for corrections officers.
Labrador, a former Idaho Republican congressman, is at least part of the push behind passing the firing squad bill. He was "personally involved" in co-authoring Skaug's proposal, a spokesperson for the attorney general's office told the Statesman, declining further comment. Labrador declined a request for an interview.
Voters elected Labrador, an immigration attorney, as Idaho's next attorney general in the November general election. Before taking over his new position, Labrador worked at Skaug's private law practice for about three years, according to Labrador's LinkedIn page.
Last week, Labrador went to bat for the firing squad bill in the news release announcing Pizzuto's latest death warrant. Pizzuto, 66, is terminally ill and been under hospice care for more than three years.
"We understand IDOC is working hard to acquire the chemicals necessary to fulfill this death warrant," Labrador said in a statement. "We hope the Legislature will also consider giving the state an alternative method of execution."
In response, Pizzuto's attorneys with the nonprofit Federal Defender Services of Idaho questioned the timing of their client's death warrant, calling it "particularly curious" in light of Skaug's bill.
EARLIER: Idaho bill would bring back execution by firing squad
———
©2023 The Idaho Statesman.
Visit idahostatesman.com.
Distributed by Tribune Content Agency, LLC.
McClatchy-Tribune News Service