Federal jail where Epstein died gets new leadership
M. Licon-Vitale, the former head of the federal prison in Danbury, Conn., was appointed acting warden of the Metropolitan Correctional Center
---
Stephen Rex Brown
New York Daily News
NEW YORK CITY — The hellish federal jail where Jeffrey Epstein killed himself has new top brass, but the Bureau of Prisons' chronic dysfunction continues to plague the lower Manhattan lockup.
Former head of the federal prison in Danbury, Conn., M. Licon-Vitale, is the new acting warden of the Metropolitan Correctional Center. She replaced James Petrucci, who was appointed acting warden of MCC three days after Epstein's shocking suicide.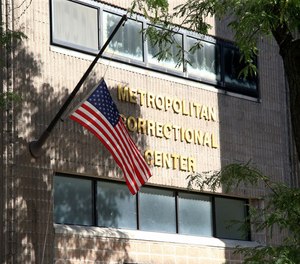 The BOP did not reveal why Licon-Vitale was chosen to take over the jail where Epstein hanged himself in August.
"Bureau of Prisons staff in all facilities are focused on the mission of maintaining safety, security and good order in our institutions and preparing inmates for a successful return to the community," was all an agency spokesman said.
The jail also has a new lawyer, Nicole McFarland, the same woman who was the face of the heating crisis at the Metropolitan Detention Center in Brooklyn last year.
McFarland arrived at MCC as supervisory attorney on Dec. 8 with a hefty amount of baggage. She served as top lawyer at MDC during a disastrous week-long power outage and heating failure at the jail holding 1,700 inmates, leaving many shivering in unlit cells. It sparked protests, emergency court hearings and outcries from elected officials.
"Nicole McFarland represented that medical care continued without problem. I spoke to clients with open wounds not getting treatment. I spoke to clients who had bloody sheets from colitis and couldn't change their sheets and couldn't get care for the colitis. I spoke to numerous clients not getting psychiatric medications. And I spoke to some of those clients with Nicole McFarland standing next to me indifferently," Deirdre Von Dornum, the attorney-in-charge of Federal Defenders in Brooklyn, said under oath in February.
The BOP spokesman said Dornum's allegation "was not to our knowledge an adjudicated finding."
A Department of Justice watchdog report on the MDC crisis criticized McFarland and a colleague, though it did not refer to them by name.
"BOP counsel did not proactively communicate to federal district court representatives sufficient information about why legal visiting had been canceled and inmate conditions of confinement during the power outage," the DOJ Inspector General wrote.
Brooklyn Federal Judge Dearcy Hall put it more bluntly.
"I don't trust the representations coming out of the BOP," the judge said in a hearing cited in the report.
MCC faces its own heating problems. The building with 768 inmates had a scheduled steam-power outage from 10 p.m. Friday to 6 a.m. Saturday. Con Edison needed to repair equipment the jail shares with the neighboring U.S. Attorney's Office, BOP confirmed.
"During this period, heat and hot water will be affected. We do not anticipate the heat in the building to go below 60 degrees. All inmates have been notified. Every inmate has a blanket and is receiving an additional (second) blanket. Also, jackets are on hand if needed," the spokesman said.
David Patton, the attorney-in-chief of Federal Defenders in Manhattan, said MCC has dealt with intermittent heat problems for the last two months. Bruce Barket, a defense attorney who has been a vocal critic of jail conditions, said he'd recently heard complaints about "extreme heat" in parts of the facility.
The Bureau of Prisons has faced several "catastrophic events" in recent years, a former warden for the Bureau of Prisons, Cameron Lindsay, told the Daily News. The heating crisis at MDC, Epstein's suicide and the murder of notorious gangster Whitey Bulger by other inmates in West Virginia all rocked the agency overseeing a population of 175,000.
The News previously reported that staff morale plummeted at MCC following charges against two correctional officers accused of falsifying records the night of Epstein's death.
BOP has not had a permanent director for much of the past four years.
"There has been a real lack of leadership at the at the director position of the Bureau of Prisons," Lindsay said. "I can't help but think that affects the whole agency, trickling downwards."
McClatchy-Tribune News Service