Rikers CO wins $125K settlement after claims of harassment, attacks by inmates
Paula Henry alleges in her suit that her fellow COs mocked and harassed her since she joined the department in 2016
---
By John Annese
New York Daily News
NEW YORK — New York City will pay close to $125,000 to settle a lawsuit by a correction officer who said her colleagues spread false rumors she was transgender — and left her to fend for herself during a brutal attack from inmates at Rikers Island.
Correction Officer Paula Henry was even hit with disciplinary charges — for failing to prevent the assault against her, according to the federal lawsuit she filed in 2021.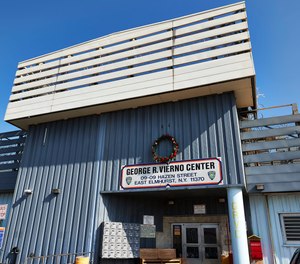 Henry alleges in her suit that her fellow correction officers mocked and harassed her since she joined the department in 2016, referring to her as "a transgender" and "Paul."
"That's a man" and "It's a dude," her colleagues told inmates and co-workers, her suit says.
Those rumors, "while false, spread like wildfire and have gravely jeopardized [Henry's] life," the suit alleges.
In 2017, Henry filed an equal employment opportunity complaint that colleagues were harassing her. According to her suit, the complaint was substantiated, but no disciplinary action was taken.
On Feb. 6, 2021, Henry was attacked by inmates in a dayroom at Rikers' George R. Vierno Center.
A broken pantry door allowed inmates easy access from an adjoining room, and that day her supervisors made sure she was the only one assigned to the dayroom, she claims.
Members of the Bloods and the Latin Kings started brawling, and she pushed an alarm button four times, but the unit's command room didn't send help and the officer assigned to the adjoining room refused to step in as she was beaten, the lawsuit alleges.
One inmate called her a "tranny b---h" and hit her face and head, knocking her to the ground, where she blacked out, the lawsuit says. When she came to, another detainee was dragging her across the room.
Eventually, an officer and captain arrived, with no backup team, to get her an ambulance. She suffered a broken nose, a concussion, loss of consciousness, facial scarring and injuries to her right shoulder, right elbow, right wrist, right hip, knees and right ankle, her lawsuit alleges.
Adding insult to injuries, she was hit with disciplinary charges — accused of failing to secure the pantry door, essentially causing the brawl to happen, according to the suit.
The inmates involved have not been charged in the assault, though the investigation into the attack remains ongoing two years later, law enforcement sources told the Daily News. It is unclear if any other Correction Department staffers were disciplined over the attack.
Henry's suit, which was filed in Brooklyn Federal Court, was settled last month.
Her supervisors refused to transfer her out of the Vierno center after the attack, she alleges.
One correction officer named in the lawsuit, Cleon Wiley, "continuously made disparaging rumors about Ms. Henry's gender that grew pervasive throughout Rikers," she alleged. Wiley will pay $1,000 out of his own pocket as part of the $125,000 settlement, the city Law Department confirmed. The remainder comes out of the city coffers.
"The settlement was in the best interest of the city," Law Department spokesman Stefan Mooklal told The News.
Wiley declined to comment about the specifics of the case, though he denied wrongdoing.
"It's crazy to even be involved in it," he told The News. "I just want it behind me because it sucks, the fact that I have to pay for something I wasn't involved with, with no evidence and everything."
The Correction Department did not reply to messages seeking comment about the settlement or about its response to the alleged harassment and assault.
Henry continues to work for the Correction Department at Rikers. Her attorney Jessica Massimi declined to comment.
©2023 New York Daily News.
Visit nydailynews.com.
Distributed by Tribune Content Agency, LLC.
McClatchy-Tribune News Service