Coworkers remember CO Scott Riner for his dedication, fairness
Riner was shot and killed in the Gwinnett County Comprehensive Correctional Complex parking lot 40 minutes before his shift Tuesday morning
---
By Chelsea Prince, Jozsef Papp, John Spink
The Atlanta Journal-Constitution
ATLANTA — There were times when Senior Correctional Officer Scott Riner arrived at work, clearly sick and in need of rest, and it would take his superiors' prodding to get him to go back home.
Capt. Audrey Henderson would tell Riner to take the day off, and he'd push back. His duty came first, he told his former supervisor, before reluctantly agreeing to some respite.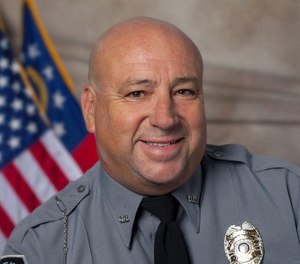 That's the kind of dedication Riner was known for at the Gwinnett County Comprehensive Correctional Complex, and how his coworkers and inmates will remember him.
Riner, 59, was shot and killed Tuesday morning as he arrived 40 minutes early for his 7 a.m. shift at the Hi Hope Road facility. His body was found lying near his vehicle in the parking lot, according to Gwinnett County police spokesperson Sgt. Jennifer Richter.
Investigators had few leads in Riner's killing Tuesday, other than a grainy image of an unidentified suspect seen in the parking lot around the same time. Henderson said the entire Department of Corrections was baffled by his death.
"Being in this negative environment sometimes, working here, it's easy to come in and be negative and be unhappy, but that's not who he was," Henderson said. "And every day he did it on a daily basis. That's a hard job to do."
Richter said no one witnessed the shooting, made particularly brazen by its apparent disregard for the numerous law enforcement officers working nearby. The complex, which is next door to police headquarters, houses minimum-security state and county inmates sentenced to full-time incarceration, as well as offenders on work release programs.
"Right now we are still early on in this investigation," Richter told The Atlanta Journal-Constitution from the scene. "The best we can tell is that he had an encounter with an individual here in the parking lot, and we are working to determine what that encounter was and what exactly led up to the shooting, as well as who that individual was."
Prior to Tuesday, five Georgia law enforcement officers were killed in the line of duty this year. Eight were killed in 2021. In addition to the Georgia officers killed on the job in 2022, at least one officer died from COVID-19 complications and others from various medical conditions.
Riner had worked as a county correctional officer since June 2010 and had no prior experience in law enforcement in Georgia, his state police record shows. He served with a tight-knit group that takes inmate crews out for work detail, and his coworkers were taking his death particularly hard, Henderson said.
"Officer Riner was even liked by the inmates, and that's kind of hard to say sometimes," she said. "Because he treated inmates fair, he did what he was supposed to do, they even liked him. So they are having a hard time with this."
A family man and a recent grandfather, Riner always had an amusing story to tell and was known for his office hijinks and funny photos, Henderson said. During a Shop with a Cop event one year, Riner was photographed wearing a pink tutu in solidarity with his young charge.
"My prayers go out to his family," Henderson said. "I want his family to know he was my family as well, and we're going to get through this together."
The parking lot of the correctional facility was roped off with crime scene tape for hours Tuesday while homicide detectives collected evidence. A tow truck took away a maroon pickup truck around 10:10 a.m. as a police helicopter hovered overhead.
Hi Hope Road was closed between Swanson Drive and University Parkway for the investigation, which also impacted Gwinnett Online Campus across the street. The public school rescheduled its final exams Tuesday, according to a message posted on the school's website.
Richter said prior to the shooting she was unaware of any criminal activity in the parking lot, which is open to the public. Investigators are exploring all possible motives.
"The Gwinnett police department would like to extend condolences to (Riner's) family, friends and coworkers," the agency said in a statement.
Anyone with information is asked to contact detectives at 770-513-5300. Tipsters can remain anonymous, and be eligible for rewards of up to $2,000, by contacting Crime Stoppers Atlanta at 404-577-8477, texting information to 274637 or visiting the Crime Stoppers website.
____
(Staff writer Alexis Stevens contributed to this article.)
____
©2022 The Atlanta Journal-Constitution.
Visit at ajc.com.
Distributed by Tribune Content Agency, LLC.
McClatchy-Tribune News Service