Md. county seeks ways to support corrections officers' mental health
Officials plan to implement professional and peer resources to support COs after traumatic events
---
Corrections1 Staff
ANNE ARUNDEL COUNTY, Md. — Anne Arundel County officials have started working to establish a critical incident stress management system to provide mental health support to corrections officers.
The Anne Arundel County Department of Detention Facilities, Recovery Centers of America and Anne Arundel County Police Department's Crisis Intervention Team held a seminar in late September for corrections officers and administration to highlight the need for such a system and to underscore the mental health challenges unique to COs.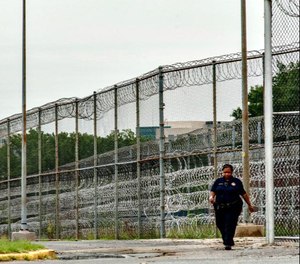 Lt. Steven Thomas, law enforcement coordinator for Anne Arundel County's Crisis Intervention Team, told U.S. News there are some facets of a CO's job that make it difficult to maintain their mental health.
"If we have a [police] officer, say they respond to a horrific incident and they get blood on their uniform," he said. "Most times, I can tell an officer, 'Go home and change your clothes and get a shower. Get fresh and then come back and we're going to do something to take care of that."
But for corrections officers, "they are locked in the facility, and they don't have that freedom" to leave and recover a little after a traumatic event, he added.
To address the strain on COs' mental health, the AACDDF is looking to hire an on-site mental health professional and introduce a peer-support stress management system.  Dale Waldroff, president of the Anne Arundel County detention officers union, told U.S. News he believes having peer resources in place will encourage more corrections officers dealing with the stress of the job to seek help.
"Who better to talk to than the people that work with you every day, that can sit down and say, 'Hey, I've known you for 15 years, I'm seeing a change in you'?" he said. "Or being able to pull someone aside and say, 'Hey, look, I've dealt with this and I just don't know how to mentally process it'."
"It's a subject (my department is) not familiar with, as far as these kinds of things go," he added. "But, you know, the fact that they're willing to have these conversations, to learn, to broaden their horizon – to me that speaks volumes in the positive."