Longtime Va. sheriff B.J. Roberts dies at home
Roberts will be remembered as Virginia's longest-serving sheriff and as the first African American to serve as president of the National Sheriffs Association
---
By Alissa Skelton
The Daily Press
NEWPORT NEWS, Va. — Hampton Sheriff B.J. Roberts, who had plans to retire in January, died peacefully at home on Saturday morning after celebrating Christmas with his family, the sheriff's department said.
Roberts was elected sheriff in 1992. He will be remembered as Virginia's longest-serving sheriff and as the first African American to serve as president of the National Sheriffs Association.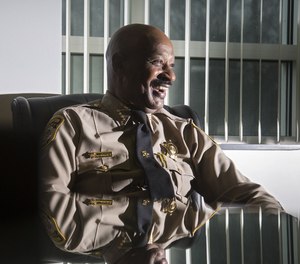 Mayor Donnie Tuck said he was shocked to hear the news and he isn't sure what caused Roberts' death. Blair Young, the funeral director for The Cooke Brothers Funeral Chapel, said Roberts' body has been received but no arrangements have been made yet.
"He always had a presence in the community," Tuck said. "There is going to be a big hole in Hampton that will be difficult to fill."
In the 1990s, Roberts helped improve the city's jail, which was overcrowded and under scrutiny by federal authorities. Tuck said Roberts was passionate about preparing inmates to return to the community upon release and improving their living conditions at the jail.
"He took a jail that had great deficiencies and turned it around," Tuck said.
Even though Roberts was a public figure, he has led a private life, said Calvin Pearson, a longtime friend of Roberts.
"He had become a well-respected sheriff on the local state and national level," Pearson said. "His loss will greatly be felt as Hampton losses another cherished leader who fought for human rights in the penal system."
(c)2020 the Daily Press (Newport News, Va.)
McClatchy-Tribune News Service