Federal prisons embrace pepper spray as antidote to violence
BOP is expanding 2.5-year-old program to include workers at all 47 medium-security prisons and all five medical facilities
---
By Michael R. Sisak
Associated Press
PHILADELPHIA — The vast majority of federal correctional officers are being equipped with pepper spray, a tool their colleagues in a pilot program say has been a game-changer in prisons where inmates have long tilted the balance of order with shivs and smuggled razor blades.
After years of pleas by correctional officers and the murders of two, the Bureau of Prisons is expanding the 2½-year-old program to include workers at all 47 medium-security prisons — which union officials say are often used as way stations for inmates headed to and from high-security facilities — and all five medical facilities.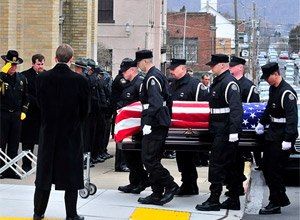 Officers at those facilities started training and carrying pepper spray this month. The program had been limited to high-security prisons and select detention centers and jail units.
"Mall cops have it," said E.O. Young, the national president of the correctional officers' union. "We definitely believe our prison staff should have it because they work around the most dangerous, heinous criminals society has ever produced."
The bureau announced the expansion in late February, days after the second anniversary of Officer Eric Williams' death in an inmate ambush at a federal penitentiary in rural Pennsylvania.
The state's senators, Pat Toomey and Bob Casey Jr., are pushing a bill named for Williams that would give officers permanent pepper spray access and training, regardless of any shifts in Justice Department policy, and Casey has asked for a Judiciary Committee hearing on correctional officer safety.
"There needs to be a wake-up call," said Williams' father, Don Williams. "These people are law enforcement without guns and are, 24 hours a day, in the middle of that environment, in that harm's way. There needs to be a lot of attention called to that."
Williams, 34, was working alone in a unit with more than 100 inmates and had just keys, handcuffs and a hand-held radio when, prosecutors say, gang murderer Jessie Con-ui knocked him down a staircase Feb. 25, 2013, stabbed him 129 times and fractured his skull.
Con-ui — convicted in Arizona of fatally shooting a gang rival outside a Phoenix laundry in 2002 and conspiring in a New Mexico cocaine ring — has pleaded not guilty. Prosecutors are seeking the death penalty. His trial is tentatively set for July.
Prisoner rights advocates say that the effects of pepper spray are more harmful to inmates with respiratory problems and that giving it to all officers could lower the bar on use of force and increase abuse.
"They wind up just being torture tools," said Paul Wright, executive director of the Human Rights Defense Center, suggesting that only supervisors have access to pepper spray. "The whole purpose is to inflict pain. We see plenty of examples where they're consistently abused."
The Bureau of Prisons said its officers are trained to use pepper spray only when staff or inmates are in immediate danger and only after they have tried to defuse the situation with verbal commands.
The bureau started its pilot program at seven prisons in June 2012. It didn't expand to high-security facilities, like Williams' U.S. Penitentiary at Canaan, Pennsylvania, until three days after his death.
Pressed by lawmakers and the unions, the bureau expanded the program again in December to include civilian workers at high-security prisons and officers and workers at six medium-security prisons and 24 detention centers and jail units.
The 2008 murder of Officer Jose Rivera at a federal penitentiary in California brought calls from guards and their union to allow pepper spray. But Harley Lappin, the bureau director at the time, warned inmates could grab an officer's pepper spray canister and use it against him. Wardens working in the system at the time said the bureau also feared staff abuse and inmate lawsuits.
The current director, Charles Samuels, though, has called pepper spray a valuable security tool. And, at less than $20 per canister, arming all 39,500 Bureau employees with one would cost less than $1 million — a fraction of the bureau's nearly $7 billion budget.
In the pilot program, pepper spray reduced incident containment times by an average of 1.61 minutes, or about 37 percent — from 4.34 minutes to 2.73 minutes. Agency statistics over the same period showed a steady drop in assaults on prison staff.
Officers in the program used pepper spray at least 23 times since the start of 2014, according to reports posted by their union, the Council of Prison Locals.