L.A. sheriff's deputy shoots man who attacked custody assistant, stole TASER
While being fingerprinted, the man punched the employee in the face, then dragged her into a holding cell, locking them in together
---
By Laura J. Nelson
Los Angeles Times
LOS ANGELES, Calif. — A Los Angeles County sheriff's deputy shot and critically wounded a man Friday afternoon after he attacked a jailer at the Lakewood station, officials said.
A deputy shot the man at least twice about 12:50 p.m., sheriff's Deputy Marvin Crowder said. The suspect was shot once in the chest and once in the arm, officials said.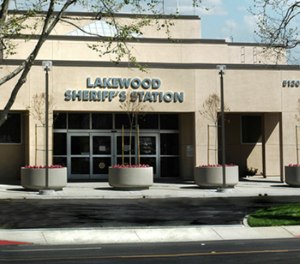 The man, whose name was not released, had been arrested on suspicion of stealing a car. While being fingerprinted, he punched the custody assistant in the face, according to Lt. John Corina with the Sheriff's Department homicide bureau, who reviewed video footage of the attack.
The jailer, who was alone and unarmed, collapsed. She is 4 feet, 11 inches, Corina said. Her attacker is 5-foot-10 and 265 pounds, he said.
The man grabbed her holster and tried to unfasten her Taser, Corina said. The custody assistant crawled toward a panic button and set off an alarm in the station, alerting a watch commander.
The man dragged the jailer by the hair into a holding cell and slammed the door, locking them in together, Corina said. He demanded her keys to unlock the cell, but cells cannot be unlocked from the inside, Corina said.
"They're both locked in there, and you cannot unlock it from the inside, even with a key," Corina said. "You have a really ugly situation where he could easily kill somebody."
When deputies arrived, they could see the man holding the jailer by the hair in one hand, and a Taser in the other. A deputy used pepper spray on the man, but he "refused to give up," Corina said.
Deputies are not typically allowed to enter a jail with guns, to prevent inmates from taking them, Corina said. The watch commander called two armed officers from the attached sheriff's station because they felt "this guy would kill the custody assistant at any time."
The deputies found another set of keys, unlocked the cell, and asked the man to give himself up, Corina said. When he pointed the Taser at them, a deputy shot him and the custody assistant crawled out of the cell, he said.
The suspect did not collapse after being shot, and deputies used a Taser on him through the small screen in the cell door, he said. The incident, from the first punch to the shooting, took less than 2 ½ minutes, Corina said.
The jailer has a broken nose and a concussion, Corina said. The suspect is in critical condition and expected to recover, he said.
©2018 the Los Angeles Times