Man guilty of attempted murder in Calif. jail shooting of 2 COs
"He deserves to be locked up for the rest of his life," Sheriff Margaret Mims told reporters
---
By Pablo Lopez
The Fresno Bee
FRESNO, Calif. — A Fresno man with a violent criminal history was found guilty Thursday of the attempted murder of two unarmed correctional officers inside the the lobby of the main Fresno County Jail in September 2016.
The courtroom was completely silent as five guilty verdicts were read against defendant Thong Vang, who showed no emotion.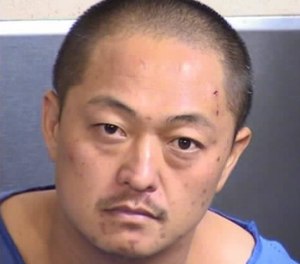 The jury deliberated about nine hours over three days before reaching its verdict.
In his trial, Vang, 38, contended he shot Officers Juanita Davila and Toamalama Scanlan after a lieutenant fired at him first.
But the Fresno Superior Court jury rejected his self-defense claim.
In addition to attempted murder, the jury found him guilty of two counts of assault with a semi-automatic handgun and of being a felon in possession of a firearm.
Prosecutor William Lacy said Vang faces a sentence of more than 100 years in prison because of his prior rape convictions in a notorious sex-slave ring case in the 1990s. Vang is scheduled to be sentenced by Judge Timothy Kams on April 27.
After the verdicts were announced, several sheriff's officials personally thanked Lacy and lead sheriff's homicide Detective Hector Palma. Sheriff Margaret Mims hugged Lacy and thanked him for giving the victims justice.
"He deserves to be locked up for the rest of his life," Mims told reporters.
Mims said the jail lobby shooting has taken an emotional toll on her department. During the trial, Davila, who was shot in the neck, testified that she still needs another surgery to mend her broken jaw. Scanlan's wife, Tespatasi, testified that her husband can no longer walk, talk or feed himself.
"Vang will suffer the consequence of his actions, but so will these families (of Davila and Scanlan) and the Sheriff's Office," Mims said.
Afterward, Davila and Scanlan's family issued separate written statements, saying they wanted to thank their family, friends, Lacy, Palma, the Sheriff's Office, the community and God for their support.
"Today justice was served," Davila's statement said. "I'm relieved that this case is finally over. My family and I can now put this behind us and look forward to a beautiful future."
Scanlan's family wrote: "We appreciate the uncompromising dedication of all our supporters who have sustained our ability to remain vigilant and positive through this entire ordeal. We are indebted to each and every one of you.
"As we close this chapter, we can now direct this foundation of love and prayer to his efforts to rehabilitate," Scanlan's family wrote.
In his trial, Vang testified he was justified in shooting the officers. He testified that he was high on methamphetamine, paranoid and looking for help when he went into the jail lobby on Sept. 3, 2016. He told the jury that he had broken up with his girlfriend earlier that day and that he feared she was sending someone after him to assault or kill him.
His intention, he said, was to get arrested so he could be safe inside a jail cell.
In his testimony, he insisted that Lt. Michael Porter started the confrontation by shooting at him in a lobby filled with people wanting to visit inmates. Vang testified that he feared for his life when he shot Davila and Scanlan, saying he believed the two officers were going to hold him so Porter could shoot him.
But Lacy, a deputy district attorney, said Vang shot Davila in the jaw and Scanlan in the arm and head before Porter fired at Vang. He said Vang never asked any correctional officers for help before he opened fire in the lobby.
In closing arguments on Tuesday, Lacy hinted at Vang's motive, saying the defendant might have been angry at his girlfriend for breaking up with him, or perhaps he had gone to the jail to commit suicide or "suicide by cop" (when someone carrying a gun confronts law enforcement in hopes of being killed), but then lost his nerve.
After the shooting, Vang underwent a three-hour videotaped interview with Palma. On the witness stand, Vang admitted that he never told Palma that he saw an officer with a gun pointed at him before he opened fire. He also told Palma that he smoked methamphetamine hours before the shooting, but told the detective that he "wasn't that high" when he shot the two officers, Lacy told the jury in closing arguments.
In defending Vang, Fresno attorney Richard Esquivel called Dr. Alex Yufik, a forensic psychologist, who testified about how smoking methamphetamine leads to paranoia and psychosis.
But Lacy told the jury that even Vang didn't believe his own defense, telling Yufik: "It's (expletive), but, hey, if it helps the case."
The prosecutor described Vang as a "sociopath," a person with an anti-social personality disorder who becomes hostile when his demands aren't met and who has a reckless disregard for others.
Before reaching its verdict, the jury had Vang's testimony re-read to them during deliberations. After the verdict, Lacy said, "The evidence was pretty clear and pretty overwhelming."
The trial shed light on the fact that Fresno County correctional officers are not allowed to carry firearms, making them nearly defenseless against an armed intruder. The incident also revealed the difficulties that law enforcement agencies encounter when trying to deport an immigrant who commits a serious crime.
Court records say Vang was once a leader in the Mongolian Boys Society, a Fresno street gang that engaged in a sex-slave ring at a local Motel 6 in the 1990s. He was sentenced to prison for raping three children, ages 12 to 14, but was released in 2014 after serving 16 years.
After his release from prison, Vang, a refugee from Laos who came to the U.S. when he was 1 year old, was held in custody for three months by immigration officials who tried to deport him, according to Mims. Laotian authorities, however, never sought Vang's return, so by law he was freed in December 2014, she said.
Less than two years later, he was arrested in connection with the jail lobby shooting.
©2018 The Fresno Bee (Fresno, Calif.)