Mo. county CO hospitalized after severe beating by inmate
Chrissy Nieto was attacked Wednesday morning after ordering the inmate to get off the phone
---
By Sarah Sinning
CLAYTON, Mo. — A St. Louis County corrections officer remains in the hospital after being severely beated by an inmate Wednesday morning, KMOV reports. 
The officer, who has been identified as Chrissy Nieto by her family, was attacked after informing the inmate, Carnell Robinson Jr., that his time for making a phone call was over. Robinson is awaiting trial for several charges, including armed robbery and homicide.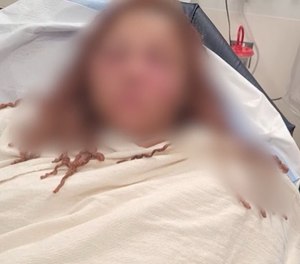 The 19-year-old inmate was charged with first-degree assault on Friday.
A county spokesperson said Nieto was able to press a panic button to alert fellow officers, who responded in about a minute. Another inmate came to her aid in the interim.
"She can speak, barely," Gary Willis, the victim's father, told Fox2Now. "She's getting words out slowly."
According to her mother, Melba Willis, Nieto is heavily sedated due to the pain. She was able to open one of her eyes on Thursday, but the swelling is still too severe to open the other, Willis said.
Nieto's family is calling for immediate action to better protect officers like their daughter, who they say "gave her all to her job." They say Nieto had previously expressed concerns for her safety stemming from a shortage of staff. 
"When she would tell me some days and nights what she was going through I knew something was bound to happen, whether it happened to her or somebody else," said Gary Willis.
The jail currently has 78 open corrections officer positions, confirmed the acting director of the Department of Justice Services, Scott Anders.
While Anders said the number of inmates allowed to be out in the pod at any given time has been reduced by 50% to account for staffing, Nieto's family says she was still expected to supervise 47 men with just pepper spray to protect herself.
"No one was there to protect her," said Melba Willis. "Another inmate pulled him off of her."