Money, safety, job prestige contribute to staffing problems at NH prisons
Understaffing in New Hampshire's prisons and transitional facilities has been a growing cause of concern
---
By Todd Feathers
The New Hampshire Union Leader, Manchester
MANCHESTER, N.H. — If every New Hampshire correctional officer was on duty at the same time, they would be outnumbered by inmates nearly seven-to-one.
That's a higher ratio than in many other states and the federal prison system. And despite liberal — some say dangerous — use of overtime, the state's prison COs are not always working.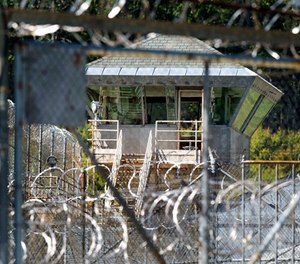 Understaffing in New Hampshire's prisons and transitional facilities has been a growing cause of concern from the cellblocks to the State House, and this year the Department of Corrections intensified its efforts to recruit and retain more COs.
It hired a marketing firm, launched its own job site, and earlier this month the state and the union representing correctional officers negotiated a preliminary collective bargaining agreement that would see frontline prison COs receive a 9.1 percent raise next fiscal year. However, increased pay alone may not be enough to encourage more Granite Staters to go into the field, experts say.
"It's a function typically of salary, job prestige, and safety," said Martin Horn, a professor at John Jay College of Criminal Justice in New York and former head of both the Pennsylvania and New York City correctional systems. "And it's a vicious cycle — if the prison is understaffed, it becomes less safe."
Reversing that cycle "doesn't happen overnight," he added.
While many states are grappling with prison CO shortages, New Hampshire faces specific economic, geographic, and policy challenges.
With a state unemployment rate of 2.6 percent, the market for prospective employees is competitive. Meanwhile, the Northeast is the highest-paying region in the country for correctional officers.
The pool of prospective correctional officers is further reduced because New Hampshire requires trainees to complete the same academy as police officers, and many trainees decide to change career paths after the state pays their way through the academy.
"(The DOC) spends a lot of resources putting people through police standards and training, and a lot of these municipalities want to grab them because they're trained," said Jeff Padellaro, principal officer of Teamsters 633, the union that represents correctional officers. "They're jumping at the higher pay and benefits."
If the new contract and 9.1 percent pay raise are ratified, the average state prison CO will make $53,208 in base pay, based on May 2017 data from the Bureau of Labor Statistics. That would move the Granite State up from 16th in the nation to 12th, but COs would still make $2,632 less than local police officers, $13,642 less than Massachusetts correctional officers, and $15,162 less than state troopers (who will receive a 1.5 percent raise).
Problem goes back years
The problem has been slowly building, but In 2012, a series of alarm bells went off for the DOC.
A Legislative Budget Assistant audit warned that the security staffing levels in New Hampshire's prisons were potentially unsustainable and that the department was becoming worryingly reliant on overtime.
The same year, New Hampshire Legal Assistance brought a lawsuit on behalf of inmates incarcerated at the now-closed Goffstown women's prison, claiming that chronic understaffing, among other issues, resulted in a serious lack of rehabilitative programming and activities compared to the men's prison.
That lawsuit forced the state to construct the new, $50 million women's prison that opened this March in Concord, but even that accomplishment highlighted the ongoing staffing problem. The prison was scheduled to open in the fall of 2017, but it had to be delayed because the DOC didn't have enough correctional officers to fill it.
For nearly a decade, the number of correctional officers in New Hampshire has shrunk while the prison population has grown. At the beginning of 2018, the DOC held 2,432 inmates, according to its website. Meanwhile, there were 364 correctional officers on the state's payroll, including supervisors, resulting in a nearly seven-to-one ratio.
By comparison, the ratio of inmates to COs in the federal prison system was four-to-one in 2016, the most recent year for which data is available from the Bureau of Justice Statistics.
Prisoner advocates say that understaffing poses a double-pronged threat.
"It has contributed to the closing of significant vocational programs for inmates that are critical to rehabilitation and successful reentry into society," Gilles Bissonnette, legal director for the ACLU of New Hampshire, said in a statement. "This understaffing may also lead to safety concerns for inmates and prison staff at the Berlin facility, which suffers from significant overcrowding that has caused inmates to be bunked in significant numbers in the gym."
The DOC can't stop accepting prisoners, so it has become even more dependent on overtime to meet minimum security levels. In 2012, correctional officers earned $5 million in overtime pay. Last year, they took in $9.6 million, according to payroll records
Looking for a fix
The DOC has received more than 300 inquiries since its new recruitment website went live in March and 64 people are "actively in the recruitment process," department spokesman Jeffrey Lyons said in a statement.
Padellaro, the union official, estimated the DOC needs to hire about 200 COs to fill vacant positions and keep up with attrition.
To help combat the siphoning off of trainees to police departments, The DOC changed its policy last year to begin hiring correctional officers as young as 19 years old. Police departments don't hire officers that young.
DOC Commissioner Helen Hanks declined an interview request for this article through Lyons.
The Legislature has tried to address the issue from a different angle — reducing the prison population — but recent efforts have been rebuffed, said state Rep. David Welch, R-Kingston, who chairs the House Criminal Justice and Public Safety Committee.
On April 2, for example, Gov. Chris Sununu vetoed a bill that would have allowed the Adult Parole Board to reduce how long parole violators are sent back to prison if they enroll in a substance abuse treatment program.
"We've got to get people out of (prison) in a way that we can keep them better citizens, but everything we try to do to get people out earlier is hard to do because we have a shortage of staff for the programs," Welch said.
For now, correctional officers are hoping that the pay increase and enhanced recruitment efforts will bear fruit and relieve the burden on them.
"There's been a couple of incidents, but luckily our officers are well-trained and they step up and do the job," Padellaro said. "They're working multiple 16-hour shifts (per week) ... It can't continue to go on."
Crime, law and justice Public Safety State Government
©2018 The New Hampshire Union Leader (Manchester, N.H.)