NC detention officer assaulted by inmate remains unconscious, sheriff's office says
Sheldon Kaminsky, 71, was attacked by a 21-year-old inmate on Thursday night
---
Update: July 25, 2021. Sheldon Kaminsky remains unconscious with mild movements, WXII 12 reports. According to his wife Candy, "he is looking better [following his facial reconstruction surgery]. His vitals throughout this have been strong, it's just a matter of not being able to wake him up."
Update: July 21, 2021. Sheldon Kaminsky remains in intensive care and on a ventilator following last Thursday's attack. "If he wakes up we know there will be issues," his wife Candy told Fox 8 reporters. "He has some serious brain trauma, some bleeding, some bruising, some sheering that is very serious and they really don't know if and when or how he will wake up."
"He's taken my husband's life away, he's ended his career," she said of her husband's attacker. "He's destroyed his life."
News & Record
        
GREENSBORO — A detention officer has not regained consciousness after being assaulted by an inmate at the Greensboro jail Thursday night, the Guilford County Sheriff's Office said in a news release.
At about 10:30 p.m., Sheldon Kaminsky, 71, was attacked by a 21-year-old inmate while on duty in an inmate housing pod, according to the sheriff's office.
Inmate Elijah J. Evans approached a desk Kaminsky was seated behind. After a brief conversation, Evans moved behind the desk and struck Kaminsky with his fist, knocking him to the floor and leaving him unconscious, the sheriff's office said.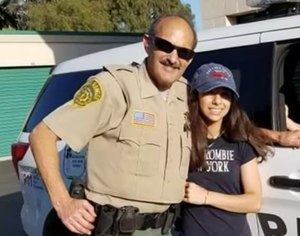 Kaminsky's supervisor in a neighboring room saw the attack and entered the pod to remove Evans, the sheriff's office said.
The sheriff's office said Kaminsky was transported to a local hospital where he has remained intubated and unconscious for the past four days in the intensive care unit.
Evans, who has been in custody since June 2 on robbery and assault charges, remains in jail.
He's since been charged with felony assault on an on-duty detention officer inflicting serious injury and felony assault with a deadly weapon with intent to inflict serious injury. According to the sheriff's office, hands and fists can be deemed a deadly weapon under state law when there is a significant difference in the physical stature of the victim and the assailant.
In his booking photo, Evans has a mark on his forehead. The sheriff's office said that mark was there when Evans was booked at the jail on June 2.
Kaminsky has been with the sheriff's office for three years and has about 30 years of service in law enforcement.
The sheriff's office called him a "very valuable asset" and added that they are "praying for his full recovery."
(c)2021 the News & Record (Greensboro, N.C.)
McClatchy-Tribune News Service