NC prison violence stats show 4 assaults per day
Officials found that 227 prison employees and 349 inmates were assaulted in the first five months of 2018
---
By Corrections1 Staff
RALEIGH, N.C. — New data shows that about four assaults take place in North Carolina's prisons per day.
Officials working to address violence in the state's troubled prisons found that 227 employees and 349 inmates were assaulted in the first five months of 2018, the Associated Press reported. Top prison officials said the numbers of assaults appear roughly in line with previous years.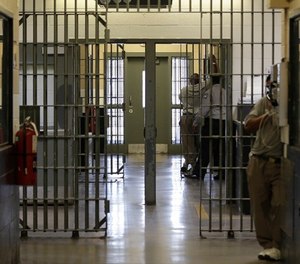 "It is a dangerous environment," Prisons Director Kenneth Lassiter told AP. "Every single assault on staff and an inmate is serious. Every single one."
Just in the last week, several employees were attacked in consecutive days. A unit manager was seriously injured after being jumped by two inmates brandishing a weapon. The next day, two COs were punched in the face by an inmate after responding to a disturbance.
If the rate of assaults this year keep up, about 567 employees will be attacked with fists, blades and other weapons, or with sprays of urine or other substances. 
The state is facing a CO shortage, and last fall, more than a quarter of CO positions were vacant. According to the NC Department of Public Safety, the state prison system houses 37,000 inmates and has more than 11,000 COs.
In April 2017, Sgt. Megan Callahan was killed in an inmate attack at a Bertie County prison. Six months later, four prison employees were killed in a prison escape attempt at the Pasquotank Correctional Institution.
Following the deadly incidents, the state intensified its focus on getting a clear picture of violence in the state's prisons.
Lassiter said although sentencing reforms cut the number of imprisoned in the state by 3,000 since 2011, a much higher proportion of inmates serving time for felonies are housed in the prison system.
"We're dealing with some mean individuals who come to prison today," Lassiter said.
Lassiter also said that about 1 out of 6 inmates housed suffer some form of mental illness. He added that COs aren't told which inmates have mental illnesses, just as they aren't told which inmates carry communicable diseases.