N.Y. CO: 'It's really hard to recommend this job'
As New York closes 6 more facilities, a veteran CO says the job is hardly worth it anymore
---
By Sarah Sinning
ALBANY, N.Y. — As New York officially closes six more prisons today, a veteran CO and union VP is speaking out about the state of correctional work in the 44 remaining facilities, WIBX reports.
"I used to recommend this job to people," said Bryan Hluska, who serves as the central region vice president for the New York State Correctional Officers Police Benevolent Association. "When they'd ask, I'd tell them it was good pay, good benefits. But, in good conscience, it's really hard to recommend this job to anyone."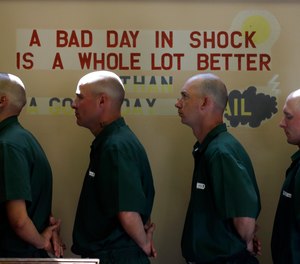 According to Hluska, the reduced number of prisons creates problems both within the remaining facilities in the state as well as within communities. 
"A lot of this is being pushed through legislation [in Albany], and inmates are getting released back onto the street. They say: 'they're drug offenders and they're non-violent.' But, that's not really accurate," he said. "They might be less violent, but I wouldn't call them non-violent." 
"And, as you can see," he continued, "the closures don't resolve the issue of crime ... just read the news."
The impact on staff within the remaining prisons has been particularly concerning, Hluska said.
"Inside, now what you have left is the worst of the worst," he said of the 18 prisons, including the six this week, that have closed in the past 11 years. "Since 2012, inmate attacks on guards are up almost 125%. It used to be you were worried about inmates fighting each other. Now, you got female officers getting their heads stomped during an attack."
In 2012, Hluska said, there were 524 assaults on staff with a statewide prison population of 55,000. In 2021, there were 1,173 such assaults with only 30,000 inmates housed across the state. 
And not only do officers have to worry about their safety on the job, he said, but mandated overtime likewise takes a toll.
''Some of them come in after they graduate the academy to become a correctional officer. They do some on-the-job-training, then almost immediately they get mandated overtime again and again and again. They say: 'You know what, the money's good, but I'm never gonna spend any time with my family. No thanks.' And, they're gone," Hluska said.
While the closures themselves will not result in any staff layoffs, many officers will now face extended commutes to and from work.
"Senior guys can apply for openings [at facilities] closer to home. Younger ones, some of them are gonna have to travel three or four hours to work now. How long do you think that's gonna last before some of them say: 'Forget this, I'm done.' "