Rikers CO suffers broken nose, burns in inmate attack
An accused murderer threw hot water at the CO and also punched him in the face
---
By Reuven Blau
New York Daily News
NEW YORK — An accused murderer threw hot water at a jail officer and broke his nose, marking the latest in a series of violent attacks against correction staff.
J'von Johnson, a reported Bloods member who is in jail on murder and assault charges, tossed the hot water at the face of the officer inside the Otis Bantum Correctional Center on Rikers Island on Saturday at 9:08 p.m., according to an internal Correction Department record of the incident.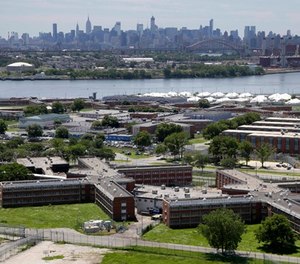 Johnson also punched the officer in the face, the record shows.
The officer — whose name is being withheld by the Daily News due to security concerns — was taken to New York Hospital-Cornell Medical Center.
Medical staff there diagnosed him with a broken nose and first- and second-degree burns to his chest, according to the union representing jail officers.
"We're facing a security crisis in the city's jails and Mayor de Blasio is MIA," fumed Elias Husamudeen, president of the Correction Officers Benevolent Association. "He's negligent and he's complicit in the continued attacks on correction officers."
Jail staff are investigating the incident and Johnson is expected to be hit with added charges.
"Outrageous attacks like this, on an officer just doing his job helping keep the rest of us safe, are exactly why this inmate was immediately placed into more restrictive custody," said department spokesman Peter Thorne.
Still, Johnson, who is 21, can't be put in solitary confinement, according to jail regulations. The de Blasio administration eliminated that punishment for inmates under 22 years old and strictly limited its use for others who act up behind bars.
The move was based on research showing the 23-hour-per-day penalty is too punitive and causes major mental and physical damage.
But jail officials have been unable to create alternative forms of punishment. In several recent cases, the young offenders were shipped out to other nearby jurisdictions where solitary is still used to separate dangerous inmates.
Over the past year, the number of officers who suffered "serious injury" due to an inmate assault increased to 63 in 2017from 47 in 2016, records show.
The attacks have not subsided this year.
Last month, Correction Officer Jean Souffrant's spine was fractured at Rikers after he was assaulted by a group of five alleged gang members.
"How many officers have to be seriously injured for Mayor de Blasio to get it through his head that not implementing punitive segregation for inmates under 22 years old is jeopardizing the safety of staff and inmates alike," said Sidney Schwartzbaum, the former president of the Assistant Deputy Wardens / Deputy Wardens Association.
©2018 New York Daily News