SWAT team frees correctional officer held hostage by inmates at St. Louis jail
The motive behind the abduction remains under investigation but Corrections Director Jennifer Clemons-Abdullah said one inmate demanded pizza
---
Associated Press
ST. LOUIS — A correctional officer was abducted Tuesday by inmates at a downtown St. Louis jail, but was freed hours later after a police SWAT team intervened.
Officials with the St. Louis Department of Public Safety said the 70-year-old correctional officer was abducted by two inmates while serving breakfast shortly after 6 a.m. Tuesday. Other inmates eventually joined in, but authorities weren't sure how many, they said at a news conference. Surveillance footage is being reviewed.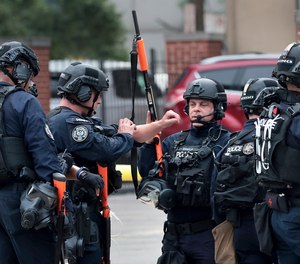 "They saw an opportunity and they took it," Corrections Director Jennifer Clemons-Abdullah said.
How exactly the inmates overtook the correctional officer remains under investigation. The motive behind the abduction remains under investigation but Clemons-Abdullah said one inmate demanded pizza.
A police SWAT team was called in shortly after 8 a.m., and the correctional officer was freed within minutes. The correctional officer, whose name was not released, suffered minor injuries and was treated at a hospital. Charges will be filed against those involved, officials said.
Interim Public Safety Director Chris Coyle said "less-than-lethal ammunition" was used on the inmates, but he did not elaborate. Coyle said two inmates suffered minor injuries inflicted by other inmates during the hostage situation.
The abduction was the latest of several acts of violence inside the jail, known as the City Justice Center, which holds nearly 700 inmates.
In February 2021, inmates set fires, caused flooding, broke out fourth-floor windows and tossed chairs and other items through the broken glass. A correctional officer also was attacked.
Inmates again broke windows and set a fire during another riot in April 2021. A month later, Dale Glass, the embattled director of the jail, resigned.