DOJ: Inmates in Ala. state prisons down, but prisons still overcrowded
The state's 15 medium and close security prisons were occupied by 160.5 percent more inmates than they were designed to hold
---
William Thornton
Alabama Media Group, Birmingham
Alabama was one of only two states in the U.S. that significantly decreased its number of people in state prisons by the end of 2017, but the state's prisons remain overcrowded.
That's according to reports released today by the Bureau of Justice Statistics, the U.S. Department of Justice agency responsible for collecting the nation's crime and criminal justice statistics.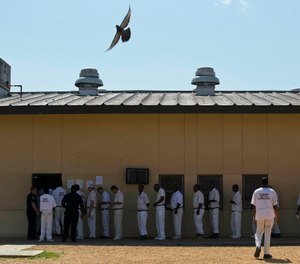 The drop in inmate population between 2016 and 2017 came during a period in which the DOJ was in the midst of investigating reports of rampant violence, sexual abuse, and living conditions within the walls of Alabama's state men's prisons. That investigation, which began in the fall of 2016, led to a report issued earlier this month and a deadline by the DOJ for Alabama to take steps towards fixing the problems or face legal action.
The decrease noted in today's report kept pace with a national trend, as incarceration rates in both prisons and jails nationwide shrank by more than 10 percent from 2007 through 2017. Over that decade, the national incarceration rate among state and federal prisoners sentenced to more than a year also dropped by 13 percent.
Still, the numbers gave a mixed picture for Alabama, which decreased its count of sentenced prisoners by 4,080 from 2016 to 2017. The decrease likely reflects sentencing reforms enacted six years ago for nonviolent crimes, which were aimed at sentencing fewer offenders to prison. The Alabama Legislature is expected to consider more sentencing reforms this session.
But between 2016 and 2017, the state saw one of the largest increases in the U.S. of people newly sentenced to more than a year behind bars in state and federal prisons. That figure was up by 1,400, the report stated.
And advocates say the number of people going in is still getting higher. The Equal Justice Initiative states on its website that ADOC reported admitting more than 14,000 people in 2018, the highest number of admissions in a single year in the department's history.
Brock Boone, an attorney for the ACLU of Alabama, said the number of people admitted last year shows that reforms "are still not anywhere near where they need to be." Parole should be expanded, along with rehabilitation and treatment programs, he said.
However, Bennet Wright, executive director of the Alabama Sentencing Commission, said the large number of admissions reflects the total number of people coming into the custody of the Department of Corrections - that means inmates not only in prisons, but those being held on probation and parole revocations. He said he believes sentencing reforms, and the 2015 reforms to probation and parole, are working.
"Obviously, given the DOJ report, there's still a lot of issues regarding the physical prisons, the pay of guards, the number of guards, health care," he said. "But the numbers since 2013 show these reforms have been successful, and the state needs to continue those efforts."
Wright said he expects some form of further sentencing reform sometime within the next month from the Legislature.
Alabama held 27,608 inmates in its state and federal correctional institutions by the end of 2017, according to the report. Of those, 12,600 were white, and 14,857 were black. There were no figures for the number of Hispanic inmates.
In its latest internal report of facilities, the Alabama Department of Corrections, as of this January, had 27,242 in its custody, which includes all inmates serving time within ADOC facilities and programs, as well as in the custody of other correctional authorities, such as county jails, other states, community correction programs, and federal and private prisons.
Nationally, the imprisonment rate for sentenced black adults declined by 31 percent from 2007 to 2017 and by 4 percent from 2016 to 2017, the largest declines of any racial group. But the imprisonment rate for sentenced black males was almost six times that for sentenced white males.
Overall, the rate of inmates serving sentences of one year or more in Alabama prisons dropped from 571 per 100,000 to 486 per 100,000 - a rate surpassed only by nine other states.
There was little surprise in one notation about Alabama's state prison system in today's report – "The majority of Alabama prisons were overcrowded."
According to the Alabama Department of Corrections' internal overview in 2017, the state's 15 medium and close security prisons at the time were occupied by 160.5 percent more inmates than they were designed to hold.
Torture, rape, murder: Shocking details from the federal investigation of Alabama's prison crisis
Alabama prisons have the highest homicide rate in the country, according to the U.S. Department of Justice.
Alabama's overcrowded, aging prisons were only one area of focus in this month's report on Alabama's men's prisons by the U.S. Department of Justice, which found there is reasonable cause to believe conditions in Alabama prisons violate the Constitution. The report said Alabama prisons have the highest homicide rate in the nation and that violence has increased dramatically in the last five-and-a-half years.
Today's report also shed light on other areas of the state's prison picture. The number of Alabamians held in private prisons was down 24 percent from 2016 to 2017, but that number of prisoners – 348 – makes up barely 1 percent of the total of incarcerated people. The state also held 817 non-U.S. citizens in federal and state prisons, or about 3.7 percent of its total imprisoned population. Only 17 prisoners statewide were the age of 17 or younger.
Nationally, the prison incarceration rate dropped 2.1 percent from 2016 to 2017, bringing it to the lowest level since 1997.
The rate of people in jails also decreased by 12 percent from 2007 to 2017, but did not decline from 2016 to 2017. Half of jail inmates were white and a third were black. In fact, the demographic characteristics of people in jails shifted from 2005 to 2017. During this period, the percentage of white prisoners increased from 44 percent to 50 percent, while the percentage that was black decreased from 39 percent to 34 percent. The Hispanic proportion nationwide remained unchanged from 2005, at 15 percent.
At the end of fiscal year 2017, nearly half of all federal prisoners were serving a sentence for drug trafficking, the report stated.
The report on jails did not provide state by state numbers.
———
©2019 Alabama Media Group, Birmingham
McClatchy-Tribune News Service