Neb. lawmakers seek to reduce prison crowding, employee turnover
The department has faced intense scrutiny from lawmakers following two deadly prison riots in a two-year period
---
By Grant Schulte
Associated Press
LINCOLN, Neb. — Nebraska lawmakers are again pushing to reduce prison crowding and employee turnover ahead of a July 2020 deadline that could force state officials to parole more inmates.
Nine state senators outlined a series of prison measures Friday that they will pursue this year to address crowding and other issues in the Nebraska Department of Correctional Services.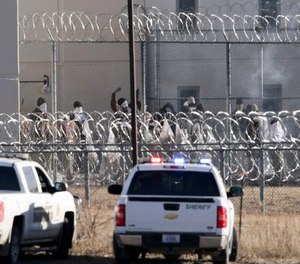 The department has faced intense scrutiny from lawmakers following two deadly prison riots in a two-year period, the June 2016 escape of two inmates from a Lincoln prison and other high-profile problems. Some lawmakers have said overcrowding and employee burnout are to blame for many of the issues.
"If we don't plan and prepare, we are not assuring the public safety," Sen. Patty Pansing-Brooks of Lincoln said at a news conference at the Capitol.
Nebraska's corrections department has until July 1, 2020 to lower its inmate population to 140 percent of what all of its facilities were designed to hold. If the department falls short of that target, the prisons will fall into an automatic "overcrowding emergency" that forces the state officials to consider paroling all eligible prisoners right away.
Lawmakers imposed the requirement in 2015 as part of a package that was intended to reduce the prison population, but the legislation hasn't yet produced the desired result. The prisons housed roughly 5,200 inmates on Friday in facilities that were designed to hold 3,375, placing the population at roughly 154 percent of the design capacity.
Sen. Bob Krist of Omaha said state officials need to alleviate overcrowding soon to try to prevent the U.S. Department of Justice from intervening, as it did with California's prison system. In 2011, the U.S. Supreme Court ruled that California's prison overcrowding amounted to cruel and unusual punishment in violation of the Constitution and ordered state officials to release more inmates.
The Nebraska prison bills include a proposal that would require the corrections agency to create a plan in case it has to release a large number of inmates. Another measure would continue the state's partnership with county jails to house inmates who are nearing their release date.
Still another bill would reinstate longevity-based pay raises for prison workers, who have complained that the department offers few incentives to keep experienced staffers on the job.
"This is a systemic issue that will need a systemwide solution," said Sen. Anna Wishart of Lincoln, the sponsor of that bill.
Sen. Carol Blood of Bellevue introduced legislation Wednesday that would require the department to conduct a staffing analysis to identify what jobs are needed and report back to the Legislature by Dec. 15. Krist has proposed letting the department approve a "medical release" for inmates who are terminally ill or permanently incapacitated.
Sen. Kate Bolz of Lincoln said the bills all stem from a legislative report that found lingering problems in the corrections department, despite some improvements.
Prisons spokeswoman Dawn-Renee Smith said department officials haven't yet decided whether to support or oppose any of the bills.
"Certainly we'll review them and determine what impact they have on the agency and public safety," Smith said.