22% pay increase for Calif. county COs
Kern County detention deputies are currently working 96 hours a week for a department that has a 33% vacancy rate
---
John Donegan
The Bakersfield Californian
BAKERSFIELD, Calif. — Detention deputies in Kern County can expect a surprise come payday, after a 22 percent salary increase was approved by the Board of Supervisors on Tuesday.
The board unanimously approved the pay increase for detention deputies, stating it will encourage more applicants to fill growing vacancies that the sheriff's office says is leaving its ranks threadbare.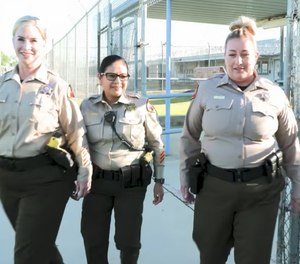 "The proposed amendment before you makes the biggest stride we have made to date in changing the circumstances caused by our current vacancy rate," said Devin Brown, chief human resources officer for Kern County.
The Kern County Sheriff's Office operates several jails and provides security at the county's courthouses and administrative buildings. It also serves as the law enforcement agency for all unincorporated areas of the county, plus cities that have contracts for service.
Its detentions bureau currently has 78 vacancies, or 32.5 percent of total detentions deputy positions in Kern.
"Detention positions continue to be a challenge in both recruitment and retention measurements," Brown said. "In just over a year's time, our compensation for detention's classification has fallen below our comparable counties in the San Joaquin Valley."
From the perspective of the county, this money would bring more detention deputies to Kern and transition their deputies back out onto patrols.
"We can all agree that our detentions (division) is a key component to resolving some of the staffing issues that we've been facing over the years," said Undersheriff Larry McCurtain. "We hope this action has a very positive effect for our staff and the county."
Brian Andrews, president of the Kern County Detentions Officers Association, said that in the interim, the department has supplanted its downtown jail with deputy sheriffs.
"We currently do not have enough officers to fill vacancies in the downtown jail, so deputy sheriffs that should be out on the street are in the jails," Andrews said. "This is the start of a chain reaction that will lead to better public safety for every citizen in Kern County."
Due to so many vacancies, Andrews said, every staff member logs well over 96 hours a week to meet minimum staffing.
"We have officers that get burned out and leave for other opportunities where they don't have to work so much overtime," Andrews said.
Kern has struggled for years to hire and retain law enforcement. Andrews said it is due to a small hiring pool that increasingly leaves the area to go and work for a better-paying department.
"There is a nationwide lack of interest in wanting careers in law enforcement," Andrews said. "On top of that we have not had competitive pay for years because we didn't have the funding for it. With this we can get better candidates that otherwise go to better paying departments."
With the pay increase, detention deputies can expect to earn between $5,479 and $6,548 monthly, depending on rank and facility.
The pay increase, which takes effect Saturday, will primarily come from the county's general fund, before being supplanted by Measure K funds, which the county expects to start collecting in April. According to county officials, the wage increase is part of a memorandum of understanding that was signed in November 2021.
Andrews is sure that even with the pay increase, the county will save money by hiring additional staff, if it means reducing its reliance on overtime pay.
"It will for sure save the county money in the long run," Andrews said.
The amendment will also restructure the $15,000 signing bonus, from dispensing it in increments to paid in full, upon signing a five-year contract.
"And there is a clause that if they do not stay for five years, they have to pay some of the bonus back," Andrews said.
In all, Kern officials estimate this will cost county taxpayers around $7.4 million annually, most of it being covered by Kern's general fund "unless additional resources are received to supplement."
Since revenues from the penny tax Measure K won't be collected until April 1 and won't be included in the general fund budget until July, District 3 Board of Supervisors Chairman Jeff Flores clarified that the first three months of the raise will come directly from the general fund.
"We wanted to get out front now," Flores said. "Over time, Measure K will be a part of that. At the end of the day, this will still be related to Measure K."
Measure K establishes a 1-cent sales tax to be levied in the unincorporated areas of Kern County to raise $54 million annually for law enforcement, fire and medical services, and other needs. Flores clarified that Measure K monies go back into the general fund.
"We passed it today, of course, clearly in advance of the Measure K implementation, but soon it will come into fruition and then Measure K will cover it in the future," he said.
___
(c)2023 The Bakersfield Californian (Bakersfield, Calif.)
Visit The Bakersfield Californian (Bakersfield, Calif.) at www.bakersfield.com
Distributed by Tribune Content Agency, LLC.
McClatchy-Tribune News Service