Freed from prison after wrongful conviction, NC man, lawyer work to help others
Greg Taylor was the first man to be declared innocent of murder in North Carolina
---
By Madison Iszler
The News & Observer
RALEIGH, N.C. — Seven years ago, Greg Taylor was freed from prison after a wrongful murder conviction. He was the first man to be declared innocent of murder in North Carolina.
Had it not been for the efforts of a determined lawyer, Chris Mumma of the N.C. Center on Actual Innocence, Taylor might have lived out his days in prison.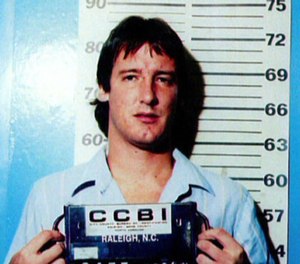 The center, and later the N.C. Innocence Inquiry Commission, took up his case, which became the subject of a 90-minute film by Winston-Salem filmmaker Gregg Jamback.
The production, "In Pursuit of Justice: How Criminal Justice Reform in N.C. Freed Greg Taylor," was screened Wednesday night during The News & Observer's second Community Voices forum with ABC11. The film includes interviews with Taylor and his relatives, Mumma and others from before his exoneration, along with footage from Taylor's trial.
After the screening, Taylor, Mumma and Mandy Locke, The N&O staff writer who reported on the case, took questions from the audience. Taylor said coming to grips with with the exoneration after 17 years in prison and the aftermath of adjusting to life on the outside involved working through the five stages of grief: denial, anger, bargaining, depression and acceptance.
"Everybody who is in this room is basically a summation of their past, and having an abnormal past ... I mean I probably won't have a normal present," Taylor said. "The idea though that somebody can just step out of prison after going through what they went through all those years and just pick up in society kind of like where they left off is beyond possibility. I realized early on in my incarceration that the person that walked into prison, if he ever walked out, would never be the same person."
In 1993, Taylor was convicted of the murder of a woman whose body was found about 100 yards from where Taylor's SUV got stuck near downtown Raleigh. Prosecutors cited evidence tested by the State Bureau of Investigation's crime lab to claim that the victim's blood was found inside the wheel well of Taylor's vehicle.
A post-conviction review revealed lab notes from the time of Taylor's trial that indicated the substance found on the vehicle was not human blood. The center also found that key evidence had been kept from defense attorneys at the trial. The commission, a state agency established in 2006 to investigate and evaluate post-conviction claims of innocence, considered evidence in Taylor's case and declared him innocent in 2010.
During Wednesday night's forum, Mumma said that Taylor's case highlights the need for greater transparency in the process and the need for further improvements. Because of state laws, defense attorneys do not have access to certain files and evidence rooms, Mumma said.
"We have this evidence that the system is not working, that we are not providing access to the information we need to save lives like this," she said.
Mumma encouraged the audience to reach out to their government representatives in support of Senate Bill 665, which concerns the reliability of jailhouse informants, and Senate Bill 667, which clarifies the responsibilities of the Innocence Commission.
The Community Voices series kicked off last month with a panel discussion on whether the Jan. 21 Women's March will have any long-lasting effects. The next event in the series, on May 24, will consider how differences in values and politics are causing rifts to form between Americans. It also will explore how people can learn to better listen to each other.
The events are free and open to the public, who are encouraged to register for the May 24 forum at nando.com/communityvoices.
———
©2017 The News & Observer (Raleigh, N.C.)