Bates Footwear unveils Code 6 Tactical Boot
New footwear is more breathable, lighter, and reduces hot spots
---
By C1 Staff
Bates Footwear introduced the latest in their boot line, the Code 6. At 15%lighter than the Bates Ultra-Lites, the Code 6 is the lightest boot they have to offer.
Code 6 is made of an open-cell vapor mesh that improves breathability by 30% and removes hot spots from the top of the foot. A V-fit lacing system is intended to increase mobility by opening toward the top of the foot and high-abrasion mesh provides for a comfortable fit, the company said.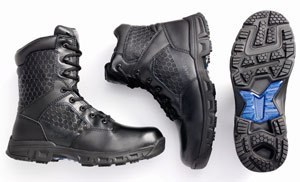 The boots are available in eight-inch side zip, six-inch side zip and four-inch models. The Bates Code 6 Tactical Boot will be available in retail stores, from uniform dealers and on www.batesfootwear.com in Spring 2014.