PRESS RELEASE
Original S.W.A.T. Introduces New Side Zip Boot
---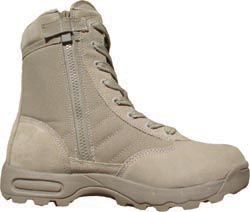 Modesto, CA – The Classic has always been Original S.W.A.T.'s most successful footwear collection. The series consists of 9" boot models without a side zip, in Black, Brown, Tan, Coyote Brown, and Air Force Sage, as well as a side-zip version offered only in Black. The Black Side Zip is Original SWAT's all-time best seller. Answering numerous requests from consumers and dealers, Original SWAT is building on that best-selling success by introducing the same Classic Side Zip boot in a Tan suede model.
The lightweight (39 oz/pair) boot is built upon the same foundations as the Classics product line, with a convenient YYK® side zipper. The Scotchgard®-treated uppers are made from non-reflective suede and durable, breathable 1000 denier nylon, triple stitched at the collar, heel and forefoot. The footbed foundation consists of a lightweight, riveted steel shank sandwiched between 2 flexible lasting boards for superior lateral stability, torsional strength, and additional under-arch protection, then topped by a removable molded orthotic sock liner.
Available Spring 2009, the Classic Tan Side-Zip features Original S.W.A.T.'s famous cushioning EVA midsole and self-cleaning multi-tred Carbon Rubber Outsole, for outstanding traction and durability. It will be available in D-width sizes 5 – 15, and EEE-width sizes 8 – 15. Both widths also come in half sizes up to size 11.5. For more information, go to www.originalswat.com, or call Original SWAT Footwear Co. at (209) 545-2500.
About Original S.W.A.T. Footwear
Original SWAT Footwear delivers tactical performance with all the comfort of a sport shoe. They endure the toughest conditions and remain comfortable, even when you're on your feet all day. There's a boot for everyone, whether it be high or low cut, with or without side zips, steel toe, waterproof and more. Title sponsor of the Original SWAT World Challenge.