Do you think body cameras are a must-have for all COs?
---
By C1 Staff
The issue of body cameras is spreading like wild fire across the U.S. as many are demanding police officers wear them at all times while on duty.

It's clear how helpful cameras have been inside correctional facilities, so should prison and jail systems expand to wearable cameras for their employees?

We asked our Facebook readers this exact question, and here are the best of the responses. Add your own in the comemnts below.
William Cottle In some institutions, administration is very well aware that many inmates act like overgrown kids and many other inmates act like complete idiots. Never the less, the body cams would be used to judge the officer's "professionalism" when dealing with inmates. You always need to be a professional as possible, but sometimes you just have to deal with such inmates in a way they were raised and understand.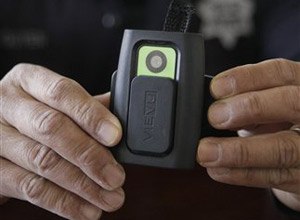 Braden Hoehn I love my job and I'm proud of the job I do, but I couldn't be more against this. You would literally have your supervisor following you around everywhere. Micromanaging never works. The more you tighten your grasp, the more will slip through your fingers. You gave me this job because you trusted me to protect the public. Now trust me to do my job. Trust and respect will inspire officers to do a good job. Fear leads only to resentment.
Dawn Rios I see tons of lawsuits coming from the inmates. As a corrections officer, you are in and out of the blocks so often and when doing so move about and speak to your inmates during your block checks. Our showers are in our day rooms and whenever I'm doing a block check, I always have females getting in and out of the shower. Having this recorded with body cameras is all sorts of wrong. Plus, what about when you're doing strip searches? I'm all for police officers wearing these on the streets, it's like they have a second pair of eyes to help them out when things come into question. But in the jail I feel this would be such a distraction to the staff. There are so many cameras around our jail that almost everything is covered (minus restrooms). I don't think we need to add this to what we already have.
Lee Oswold Yes, and not because there deceiving but because it keeps everyone honest on both sides.
Rae Ann Body cameras would be useful in a locked control cage where one officer is dealing with hundreds of inmates and their personalities. Too often the finger gets pointed at a good officer because there may be a bad seed on the floor when the one in the cage sees the majority of infractions occurring around them and tries to maintain a balance of security while remaining professional. I'll be happy to be on camera any day.
Elise Hebert Absolutely! A good officer that makes logical and rational decisions would not have an issue with it. It would be of benefit when it comes to allegations or needing certainty with regard to circumstances surrounding an incident.
Larry A Andrews It has become necessary out of self-protection. When you work with pathological liars, to cut to the chase by confronting the inmate with irrefutable evidence.
Eddie Person It can help and hurt you. A lot of LEOs and security companies are doing it; it just depends on the officer and how they use it.
Julie Crawford It will be better for both sides. It will be a bird's eye view of what is going on. Inmates can be made responsible for actions and police that abuse power will have to learn to treat people properly; no more abuse that gets swept under the rug. Also, the illegal items being slipped through the bars should be cut back. Video is definite proof.
Helmholtz Watson Nope -- discretion and fairness will be out the window. You would turn a human being into a robot, unable to be flexible in dealing with the one creature that needs the most discretion, firmness and flexibility: human beings.

Request product info from top Corrections Body Cameras companies
Thank You!