Spotlight: Reveal has been supplying body worn video systems to Police and Corrections Departments for over a decade
With customers in more than 40 countries, our commitment has been to lead the way through collaboration and innovation
---
Company Name: Reveal
Headquarters: Huntersville, NC
Signature Product: Body Cameras
Website: https://www.revealmedia.com/
1. Where did your company name originate from?
Body cameras are an independent witness that have no bias and always reveal the truth; and truth benefits everyone, not just the officers who wear them.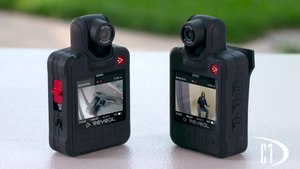 2. What was the inspiration behind starting your company?
We never underestimate what it means to be on the front line. We know that police and correctional officers work in challenging environments where they can face aggression, false complaints and limited quality evidence. Body cameras have been proven around the world to deter aggression - keeping officers safe, reduce false complaints - saving time, and provide best quality evidence - which increases officer efficiency and prosecution rates. We wanted to make the ultimate body camera system that was accessible for every agency.
3. What is your signature product and how does it work?
The D-Series body cameras are our 7th generation camera and the culmination of everything we have learnt working closely with our customers and investing in innovation over the last 15 years. The signature front facing screen provides real time footage of the video as it is being recorded and enhances the deterring nature of the body camera. It has been shown in over 45 countries around the world that when people can see themselves being recorded they alter their behavior favorably. The articulated camera head also allows for the officer to mount the camera wherever they like on their body, and easily be able to position the lens so that it is pointing in the right direction, ensuring the best footage is captured. Best of all, our evidence management software, DEMS 360, has everything you need to take the stress out of managing your footage. It even has an in-built redaction feature so that you can blur out faces or sensitive information, and can be deployed on a standalone PC, on your network, or in the cloud.
4. Why do you believe your products are essential to your vertical (Police, Fire, EMS, Corrections, Government) community?
Body cameras make sure everybody get's home safe at the end of the day. They protect the officers who wear them, but they also protect the suspect being recorded because they become more compliant and are less likely to need to be restrained. In a world where video evidence is considered as best evidence, it's essential that officers have an independent witness to back them up and prove what happened without any doubt. Agencies also benefit as this saves them considerable time and money.
5. What has been the biggest challenge your company has faced?
The biggest challenge has always been getting out products into the hands of those who could benefit. We are the market leader in Europe and Asia and are working hard to become a well known name in the USA.
6. What makes your company unique?
We take the highest end features in our body cameras and evidence management software and make them available for departments and agencies of any size. We don't discriminate between large city and smaller deployments and have created affordable bundles to make sure every facility can benefit.
7. What do your customers like best about you and your products?
Our customers love the quality of the products. As soon as they get their hands on them they know they have made the right choice. We have a lot of customers who have come to us after using a competitor's camera, and they always say how much better our system is after using something else. We also offer a free 2 week trial and eval so that customers can see just how easy the system is to set up and use. Everything works out of the box and is just plug and play.
8. What is the most rewarding part of serving the first responder/local government community?
We know these communities are the ones that keep us safe and the world running normally. We really value the people who go to work every day and wear the badge, and we want to give them a tool that makes them feel safer and proud of the work they do.
9. Is there any fun fact or trivia that you'd like to share with our users about you or your company?
Our company was founded in London which now houses the global HQ, but we have operations in over 45 countries around the world.
10. What's next for your company? Any upcoming new projects or initiatives?
We will be releasing a new camera this year which will offer improved live streaming capabilities and features, and we are investing in AI applications to make sure we stay ahead of the curve and offer the best products to our customers.

Request information from Reveal
Thank You!