Ill. governor seeks prison tower cameras
Gov. Bruce Rauner wants to replace officers in watchtowers with closed-circuit cameras at nearly two dozen lower-security Illinois prisons
---
By John O'Connor 
AP Political Writer
SPRINGFIELD, Ill. — Gov. Bruce Rauner wants to replace guards in watchtowers with closed-circuit cameras at nearly two dozen lower-security Illinois prisons, an effort to cut expenses for a cash-strapped state that has gone two years without a budget.
The administration is projecting $4 million in annual savings through reduced overtime pay and "more efficient management strategies," Rauner spokeswoman Eleni Demertzis told The Associated Press.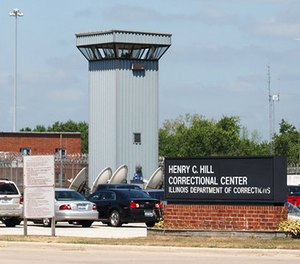 No security guards will be laid off, Corrections department spokeswoman Nicole Wilson said.
Such a proposal has encountered mixed results in other states. Michigan and Pennsylvania prison officials said they abandoned round-the-clock tower staffing in the past decade without layoffs. Wisconsin eliminated 60 guard tower positions in 2015, transferring the officers working there to other posts.
The Republican governor's office didn't provide specifics on the change, which would affect the state's 23 minimum- and medium-security facilities. The four maximum-security prisons would retain full tower staffing.
Of the 11,000 union workers employed by the corrections department, about 6,000 are security workers. Officials had discussed with the union the idea of using high-tech cameras to enhance security, but a union leader said he's wary of removing people from the lookout points.
"There's a whole range of things that tower person can do," said Eddie Caumiant, regional director of the American Federation of State, County and Municipal Employees Council 31. "They can see very clearly exactly what's going on in a situation in the yard, they can anticipate what will happen and they can see things that are out of range of the officers on the ground."
A high-profile escape in 2014 from a prison in Ionia, Michigan, sparked a debate about whether replacing tower guards with cameras hampers safety. Convicted murderer Michael David Elliott was armed with a box cutter when he escaped the camera-secured prison, carjacked a woman and drove to Indiana before he was recaptured the next day.
"His escape would have been seen by an officer in a gun tower 20 feet away, but the tower was unstaffed," said Anita Lloyd, spokeswoman for the Michigan Corrections Organization, the union representing state prison security staffers.
But Michigan Corrections Department spokesman Chris Gautz said that tower had never been staffed at that time of day since the prison opened in 1987. Officers inside the prison who weren't keeping tabs on Elliot were to blame for his breakout, he said.
Rauner, a private equity investor when he took office in 2015, campaigned on curbing union power in a solidly Democratic state and has clashed repeatedly with organized labor. He is locked in a legal and public-opinion battle with AFSCME, whose 38,000 members have authorized a strike, if necessary, for the first time in its 40-year history.
The Republican governor and Democratic-controlled Legislature have clashed over how to reduce a multibillion-dollar deficit and $13 billion pile of overdue bills.
Michigan ended full-time tower staffing 12 years ago and saved $15 million, Gautz said. Pennsylvania did the same in 2011 with $5 million saved, prison spokeswoman Amy Worden said. In both states, the towers are available for staffing when wardens deem it necessary, such as while moving a large number of inmates.
"When the towers are not in use, the officers are used inside the prison at other officer posts to help reduce overtime and to fill in wherever needed," Worden said.
That is a key to successful integration of security cameras, said Jennifer Vollen-Katz, executive director of the prison watchdog John Howard Association of Illinois.
"Cameras can catch what staff can't see and staff can catch what the cameras can't see," Vollen-Katz said. "In addition to increasing surveil inside the prison, you also want a person there for the response. Cameras can't intervene, they can't de-escalate."
Wisconsin saved $5.7 million in two years by reducing overnight staffing at guard towers, Corrections spokesman Tristan Cook said. He said replacement security was added but declined to say whether cameras are part of it.
U.S. Bureau of Prisons spokeswoman Tovia Knight declined to comment on whether federal facilities use perimeter cameras, saying it could jeopardize security.

Request product info from top Corrections Cameras companies
Thank You!