ETGI Launches "Secure Area" of Website
Stay Current with the Latest Critical Incident/Crisis Response, Surveillance, and Intelligence Equipment Register for "Secure Area" Access Today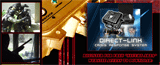 Enforcement Technology Group, Inc. (ETGI) leaders in the development of cutting edge critical incident/crisis response, surveillance, and intelligence technologies and services invite you to register for access to the "Secure Area" of our website.
Here is brief list of some of the many technologies and resources featured inside the "Secure Area" of ETGI's website:
Real-Life Hostage/Barricade/Suicide/Standoff Video Clips
Multiple Frequency Disruption Technologies
Cellular Remote Audio Intelligence Device (C-RAID) Technology
The Absolute Latest in Critical Incident/Crisis Response Communications Technologies: Multiple Frequency Disruption (MFD) Technologies, Direct-Link LifeLine, 800, & 007 Series Throw Phones, Two-Way Wireless Full-Duplex (TWD), Range Hailer™, Wireless Remote Audio Perimeter Sharing (WRAPS), & CaptiveComm™ Wireless Line Capture Systems, and More!
Surveillance/Intelligence/Transport Robotics
Crisis Response PowerPoint Presentations authored by Commander "Sid" Heal (LASD) and other renowned experts.
Robocopter™ Unmanned Miniature Automatic Flight Helicopter Flight Video Demos
Self-Contained Portable Monitoring, Digital Recording, & Broadcast Devices
Much, Much, More
To register for "Secure Area" access, please visit: http://www.etgi.us/register.php.
Due to the "sensitive" nature of several of the technologies and resources featured inside ETGI's "Secure Area" access is only granted to qualified law enforcement and military professionals.
Upon receipt and authorization of your registration, you will be sent an email to notify you that your account has been approved and you are now able to access the "Secure Area."
If you have any questions, comments, or need additional information/assistance for issues relating to the "Secure Area" of ETGI's website, please email info@etgi.us or contact ETGI directly at 800-873-2872.