E.A.R., Inc. Announces New EarPlugz-PC
A Low-Cost, High-Performance Earplug with Removable Pop Cords!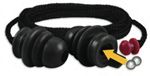 BOULDER, CO. We asked many of our key retailers "What features would you like to see in a new generic-type hearing protection product?" and were told the following:
• Anything that minimizes the daily expense for disposables would be appreciated.
• Have different sizes to accommodate different sized ears.
• Make them easy to fit, use and keep clean.
• Corded plugs are expensive -- include a reusable cord.
• Provide option to have plugs be metal detectable as required by food industry.
• Consider bulk packaging for economy.
• Minimize or eliminate the expense of unnecessary packaging which is often just thrown away.
• Have acceptable Noise Reduction Ratings (NRRs).
In response to these concerns, we created and field-tested our new EarPlugz-PC™ which were very well received!
EarPlugz-PC™ come with a reusable, removable "Pop Cord". They are available in 3 sizes (Large, Medium and Small). With proper care (soap and water, no solvents) these plugs are expected to last 6-12 months. Color choices are orange and black. Available in individual packaging or bulk packaging of 50 sets per bag (with cords, metal inserts, pouches, and instructions separate).
With EarPlugz-PC™ , E.A.R., Inc. has created a product that provides maximum flexibility for both end users and delivery systems engaged with generic hearing protection.
NRR: 28 when used as directed.