PRESS RELEASE
Havis Protects Your Mobile Workforce from the Dangers of In-vehicle Computing
---
Havis responds to mobile computing shift with new docking station for the Panasonic Toughbook 53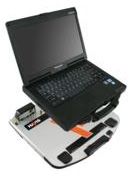 Warminster, PA - Advances in mobile technology has lead to an increase in jobs involving in-vehicle computing. Historically, companies choosing to utilize mobile computers were limited to laptops that were built to extensive military standards. As computing has become more prevalent in vehicles, the convergence of business laptops and military laptops has expanded the Semi-Rugged Laptop market. As technology shifts, Havis, Inc. responds.
Havis, Inc. has developed the industry's first Toughbook Certified docking station for the Panasonic Semi-Rugged 53. Toughbook certification ensures the docking station is built to the same standards as the laptop it supports. Havis takes it a step further by crash testing the solution at Detroit-area test facilities to minimize the risk of injury during an accident. Havis is the only company in the industry to test every docking station to Society of Automotive Engineering (SAE) standards. Ultimately, this testing provides mobile computing users the confidence they need to complete their job.
In addition to keeping mobile workers safe, the docking station for the Toughbook 53 provides intelligent port replication so users can reliably connect to peripherals, such as printers, keyboards and bar-code scanners, while minimizing the risk of accidental disconnects. An integrated power supply cord is routed along the bottom of the docking station to prevent loss of power. These features allow mobile workers to utilize point-of-sale, vehicle logistics and other mobile applications safely and reliably in their vehicle.
To provide users with more reliable WWAN and Wi-Fi connectivity inside their vehicle, Havis offers two models of the docking station with Dual Pass-Thru Antenna. This feature provides mobile users with improved data throughput and extended data range allowing them to work in more remote locations with a reliable connection to their business world.
This new docking station joins a long line of intuitive solutions from Havis that keep computing equipment safely docked, even during a crash. Whether using mobile computing every day, or simply when away from a fixed location, Havis offers peace of mind and a smooth transition from office to vehicle.
About Havis
Havis Inc. is a privately held company that manufactures in-vehicle mobile office solutions for public safety, public works, government agencies and mobile professionals. For over 80 years, the Havis mission has been to increase mobile worker productivity with industry-leading products that are built to the highest safety and quality standards and are designed with comfort in mind. Headquartered in Warminster, Pa., with an additional location in Plymouth, Mich., Havis currently employs 175 people. For more information on Havis, please call 1-800-524-9900 or visit www.havis.com.

Request more info from Havis
Thank You!