Havis launches new educational website to solve the challenges of mobile computing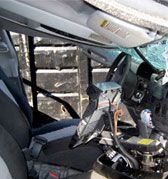 Warminster, PA - According to the National Highway Traffic Safety Administration, 20 percent of injury-related crashes reported in 2009 involved distracted driving. As state legislations aim to lower these risks for the average driver, Havis Inc. focuses on protecting the increasing number of public safety officials and other mobile workers who depend on in-vehicle computing and radio equipment.
Havis recognized the need for an educational tool that identifies the dangers of mobile computing and the importance of safety and quality testing on mobile office solutions. This new website debuted yesterday on www.havis.com and explains the Havis design philosophy, markets served, and how Havis products are used to solve many different challenges in the field.
Building a mobile office to fit vehicle specifications can be an intimidating task. Many mobile workers put themselves at greater risk by trying to save money with homemade solutions constructed of materials like wood, Velcro and duct tape. The new website features an educational section that addresses safety and ergonomic concerns, and offers "How To" tips for topics such as securing a computer and mounting radio equipment.
Properly mounted equipment will help reduce distractions while driving. Havis keeps drivers focused on the road with computing solutions that lock in place and reduce back, wrist and eye strain, as well as mounting solutions that organize radios, switches and sirens within comfortable reach. Other mobile office solutions include prisoner and canine transport and power and fuel management.
Visitors to the site can also learn how Havis' rigorous product testing ensures superior performance, reliability and durability in the field. For further support of this, Havis provides a crash test video and real-life case studies where products survived serious accidents and kept equipment securely mounted.
In one of these case studies, a sheriff in Maricopa County, Ariz., learned firsthand the benefit of having a well-constructed mounting system during an accident. While responding to a call during a rain storm, the deputy's SUV began to hydroplane. It struck the side of the mountain and flipped, coming to a rest on its roof. The mounted Panasonic CF-29 remained securely locked in place and functional due to the Havis mounting and docking system, and allowed the first responder to see where the unconscious officer was heading. The Havis solution was redeployed in a new vehicle within days.
In addition to learning about Havis' core values of comfort, safety and quality, visitors can browse the interactive catalog or search products using Havis' upgraded search capabilities. The "Find a Reseller" page makes it easy to locate preferred resellers of Havis products by postal code.
For returning visitors or those who prefer more detailed product information, the previous version of the website is still available as the "Product Site" and can be accessed by clicking on the bright orange ribbon at the top right of the new website. This site provides MSRP, application photos, specifications, installation instructions and other documentation for the full Havis product portfolio.
With this new educational website, Havis' goal is to arm mobile workers with the tools and information they need to create a safe and comfortable mobile workspace to maximize productivity.
About Havis
Havis Inc. is a privately held company that manufactures in-vehicle mobile office solutions for public safety, public works, government agencies and mobile professionals. For over 80 years, the Havis mission has been to increase mobile worker productivity with industry-leading products that are built to the highest safety and quality standards and are designed with comfort in mind. Headquartered in Warminster, Pa., with an additional location in Plymouth, Mich., Havis currently employs 175 people. For more information on Havis, please call 1-800-524-9900 or visit www.havis.com.