How a simple supply change can boost safety in your facility
Eliminate the potential for improvised weapons by using cleaning tools made from materials that can't be sharpened
---
Sponsored by Briarwood Products
By Corrections1 BrandFocus staff
Workplace safety is important for any industry, but it can be particularly challenging in corrections. COs face a greater than average potential threat of injury due to the fact that they are in constant contact with violent criminals. In fact, the Bureau of Labor Statistics reported in 2016 that correctional officers have one of the highest rates of nonfatal, work-related injuries of all U.S. workers.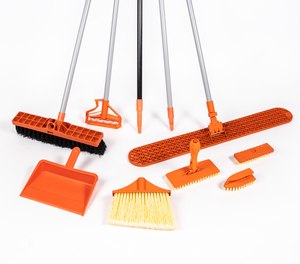 Multiple studies have shown that pointed and sharp-edged weapons, usually improvised from otherwise harmless objects like toothbrushes and mop handles, are the most common threat faced by COs. News reports of an inmate attacking a CO, an all-too-frequent occurrence, often mention stabbing or slashing with a homemade blade or pick fashioned from available materials.
So what can corrections administrators do to help reduce these risks? Clearly, minimizing access to materials like hard plastics, wood and metals that can be sharpened is a key step toward improved officer safety. But most cleaning tools and other necessary products for basic custodial management of the facility are made from these very materials.
Use Supplies Designed with Safety in Mind
Briarwood Products, a longtime manufacturer of janitorial tools, recognized this problem and developed a suite of cleaning tools designed specifically with the safety of officers and inmates in mind. These specialized tools are made from fiberglass or a special rubbery plastic that can't be sharpened, unlike wood or hard plastics. This eliminates an inmate's ability to form or re-form the items into a sharp or pointed weapon.
"Our mission is to provide cleaning tools that will enhance the overall safety of high-security correctional facilities," said Erwin Tomm, president of Briarwood Products. "We manufacture our cleaning tools specifically with the safety of the officers and inmates in mind, and we believe that our Shank-Free Orange product line provides a safe environment for both the officers and the inmates who use the cleaning tools."
Briarwood's Shank-Free Safety Orange Line of plastic cleaning tools are 100% metal-free and include surface cleaning tools, wet mop holders, sweeping equipment and fiberglass telescoping extension poles. All products are made in the USA, and parts are fully interchangeable for easy replacement.
The plastic handles are durable as well as flexible, and they are designed so that items cannot be concealed inside. In addition, the polymer will not conduct electricity and is both chemical- and bacteria-resistant.
Other available Briarwood Products tools include dust mop frames, plungers, squeegees, scrubbing brushes and more. Most units are bonded with adhesive to make a complete solid unit to prevent inmates from taking them apart. For added safety, the bristles of each scrub brush are secured using a metal-free bond so there are no staples.
Why Flexibility Matters
Blunt trauma poses another threat. Inmates have been known to use metal or wooden rods, such as mop handles, as clubs. Briarwood's fiberglass handles, such as the "Panther Pole," are sturdy enough for use in cleaning but can't be used like a club because these handles are not made of solid fiberglass rods. The lightweight fiberglass cracks and bends if abused, lessening the potential for blunt force trauma.
Similarly, Briarwood's plastic handles are designed to be sturdy but flexible, and they can stand up to custodial use but still bend without breaking. The rubbery plastic construction not only eliminates the ability to create shanks, the handle bends too easily to be used as a club. Like Briarwood's fiberglass tools, the plastic handles are designed to prevent the ability to conceal items inside.

A 2013 NIOSH study of COs killed or injured on the job suggests that correctional facilities identify risk factors and develop appropriate prevention efforts to reduce on-the-job injuries. Using cleaning tools developed for use in the correctional environment is one way to improve the overall facility safety.
Briarwood Products are made in the USA and available from the company via order form or on Amazon. Briarwood is family-owned and operated and has been in Cleveland since 1993.
"Our tools may be a bit more expensive," said Tomm, "however they are made and intended to save lives. The safety of our tools is what shines through. Our products are stronger and more durable than other products and able to withstand tampering."

Request information from Briarwood Products, LLC
Thank You!