How drone tracking can protect correctional facilities against airspace threats
Cloud-based drone monitoring solutions provide users with operator identification from the start of takeoff, as well as real-time monitoring of the current operator location
---
By Emily Rhodes
In 2022, more than 23,000 contraband items were confiscated across Georgia's prison system. According to the Georgia Department of Corrections (GDC), the contraband included 11,687 weapons, 21,088 grams of methamphetamine and over 100,000 grams of marijuana. This was just in one state. The number of dangerous items being smuggled into America's prisons continues to increase, and it's becoming even more complex and challenging to track, let alone prevent. 
Smuggling drugs and other dangerous contraband into prisons is nothing new. Historically, contraband came from enterprises, separate suppliers, and social sharing and trading. However, smugglers and their incarcerated contacts have become increasingly creative and tech-savvy in conducting their operations, using drones to fly above sally ports to deliver drugs, weapons, cell phones and other contraband.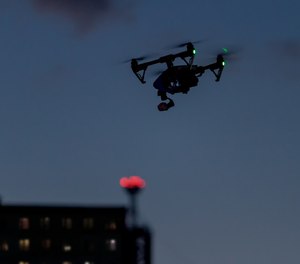 In Georgia, multiple agencies conducted an investigation that uncovered inmates engaged in a national drug trafficking ring throughout the southeast. All from within a prison. This multi-level operation was fueled by lottery ticket winnings and compromised correctional officers using drones to deliver contraband items to inmates.
Looking to the skies
According to the National Institute of Justice, drones present a significant security threat to many of the 7,100 federal, state, local, tribal, and military prisons and jails in the United States.
Drone incident data collected from the Federal Bureau of Prisons (BOP) uncovered an increase from 23 drone incidents in 2018 to 57 incidents in 2019, an over 50% increase in one year. As a result, secure facilities are looking toward emerging drone detection systems to help manage the threat of contraband to correctional facilities. These early warning detection solutions assist correctional officers and their teams in detecting, tracking and mitigating threats to their airspace.
Drone detection and data mapping
Drones are being used not only to deliver contraband to inmates but also to facilitate escape plans. To enhance the safety of both staff and inmates, it's critical that correctional facilities leverage technology that not only detects drones entering prison airspace and surrounding areas but also tracks and maps the drone's activity.
Prison staff can leverage real-time drone data and analytics through a cloud-based platform that offers remote support for easy access. This also provides comprehensive visibility into any airspace activity through an advanced dashboard without impeding daily duties and on-site emergencies. This city-scale network provides real-time data and deep threat analysis. Should unauthorized activity be detected, automated notifications will be sent to the facility's chain of command immediately.
Drone activity analysis
Following the detection of drone activity, correctional facilities can access full details of the drone's flight path, including identification of the exact location of both the drone and the operator. Cloud-based drone monitoring solutions provide users with operator identification from the start of takeoff, as well as real-time monitoring of the current operator location. This helps local police departments to make the proper arrests and prevent unauthorized flight activity from happening again with the same unmanned aerial vehicle (UAV).
Another advantage of cloud-based, city-scale drone detection comes in the form of historical flight data analysis. This crucial information provides secure facilities operations staff with the ability to determine whether a particular drone is a first-time offender of the airspace or if the device has a history of violating the airspace. This information can then be downloaded into a court-ready document to be leveraged by officers of the court for further legal matters.
Drone defense management amid prison staffing shortages
After evaluating the critical benefits of implementing drone management technology into a prison system, it's important to remember that drones create both opportunity and risk. Yes, they are causing significant issues for corrections facilities when used for criminal activity, but drone technology is also beneficial.
Prisons, like many other industries, are experiencing a massive staffing shortage. Corrections officers and other prison staff have been quitting in droves due to unsafe working conditions and limited pay. The Texas Department of Criminal Justice reported a 40.3% turnover rate for correctional officer positions in 2021, increasing by nearly 7% from 2020, and the turnover rates continue to climb across the country. As a result, prison leaders are left struggling to protect the prisons. 
As a solution, prison officials are deploying drones for crowd monitoring and management during emergency and lockdown situations. Drones also fill the gaps created by a limited number of prison officers by providing a real-time view of the prison facility from above, allowing officials to assess a situation and take appropriate action quickly. Additionally, drones can monitor and manage crowds during emergencies such as riots or fires, providing prison officials with a valuable tool for ensuring the safety and security of those incarcerated as well as staff.
Advanced drone management technology is critical for ensuring the safety and security of prisons and those incarcerated. Radar systems, geo-fencing, and drone flight pattern analysis are some of the ways these technologies enhance airspace awareness and mitigate the risks involved with contraband being delivered to prisons via drone. By embedding drone detection into a prison's security system, prisons can identify potential threats before they occur, detect any attempts at unauthorized access, and, most importantly, make the facility safer for everyone.
NEXT: How to buy drone detection (eBook)
---
About the author
Emily Rhodes is the VP of Marketing at SkySafe. Emily is a proven growth-oriented, SaaS marketing professional with many years of experience leading marketing departments. A graduate of the University of South Carolina, she brings enthusiasm for innovation and creativity with a focus on driving demand and marketplace leadership.