PRESS RELEASE
Advanced Protection Systems to demonstrate Ctrl+Sky Counter Drone System at Mock Prison Riot
---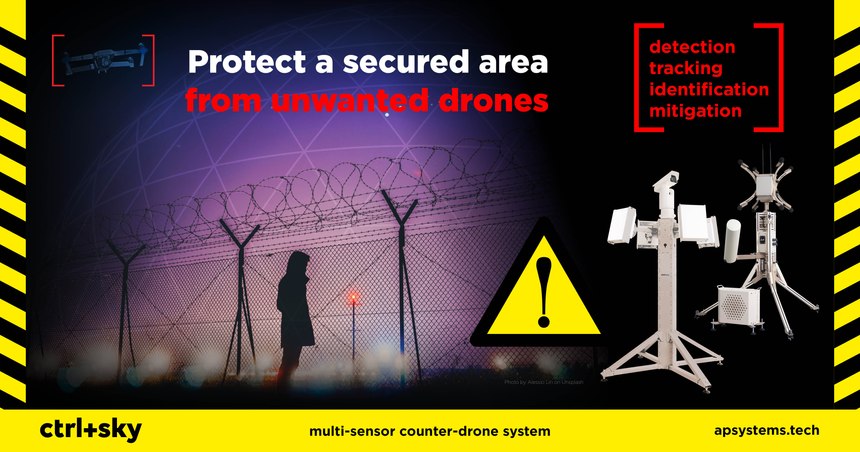 Advanced Protection Systems will be attending this year's Mock Prison Riot, taking place at the decommissioned West Virginia Penitentiary in Moundsville, WV, May 7th and 8th. See a live demonstration of the Ctrl+Sky Counter Drone System, at the event.

Ctrl+Sky Stationary is designed to permanently protect a defined area. The Ctrl+Sky Stationary design is based on a high, stable mast that is installed in the optimum location for the best possible operation of the system. Depending on clients' needs, the Ctrl+Sky system uses four technologies to detect drones in any condition regardless of size or configuration, identify the drone entering a protected area, marking the manufacturer and serial number, then alerting the user to an intrusion. Ctrl+Sky is then able to neutralize the UAS by jamming the signal and downing them upon detection or rerouting them back to their origin.
The Ctrl+Sky System along with a dedicated web-based application Ctrl+Sky CyView is designed to integrate security systems. Using open API, the CCTV cameras already installed and used at the client's location can be integrated with Ctrl+Sky system. Also included in the Ctrl+Sky Stationary is the server unit (processor unit) that is used to process the data and manage the entire system. The server unit can be located as far as 100 meters from the sensor mast.

Download the full product specifications here. To learn more, visit aps on Corrections1.com and submit your information to be contacted directly.
About Mock Prison Riot
Held every spring at the decommissioned West Virginia Penitentiary in Moundsville, WV, the Mock Prison Riot features hands-on training and technology exposure to corrections, law enforcement, military, and public safety practitioners from around the world. At the Mock Prison Riot, exhibitors and operators work together in a living, breathing environment, continually pushing the envelopes of tactics and technology.

The Mock Prison Riot is a program of the West Virginia Division of Corrections and Rehabilitation (WVDCR) and the West Virginia Corrections Training Foundation, a 501(c)(3) non-profit corporation.
West Virginia Corrections Training Foundation, PO Box 616, Moundsville, WV 26041 USA
About Advanced Protection Systems
Advanced Protection Systems is an innovative technology company focused on preventing the threat posed by UAV. Our Multi-Sensor approach implements a solution that provides maximum efficiency and complete protection against intrusive drones.
Everyday drones can compromise security and privacy as well as present a hostile threat. Drones can threaten the security and safety of people, property and sensitive information at airports, prisons, power plants, government facilities, industrial sites and public events.

Learn more at https://apsystems.tech/en/.

Request more info from Advanced Protection Systems
Thank You!