Dragon Skin ergonomic duty belt on display at SHOT Show 2019
The ergonomic duty belt for police officers stretches with any body movement
---
By Police1 Staff
Hi-Tec Intervention is showcasing the Dragon Skin, an ergonomic duty belt for police officers, at the 2019 SHOT Show in Las Vegas.
The two-piece duty belt features an inner webbing belt that expands and contracts with the outer webbing belt as an officer moves from any position to another position.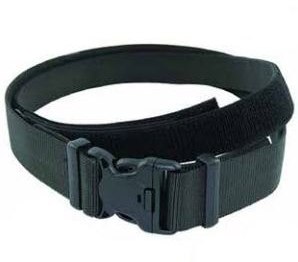 Velcro on the inner belt connects to the outer Velcro belt. The two belts – inner and outer – move together as a police officer, paramedic, firefighter or corrections officer moves from sitting, bending or twisting from side to side.
The Dragon Skin duty belt is available in two widths – regular 2" and V.I.P. 1-1/2" and waist sizes from 28" to 48". The belt's patent pending expanding material did not change in 250,000 testing actions.
For more information on the Dragon Skin duty belt, click here or visit the company during SHOT Show at booth #6006.